How to Approach Basement Mold Removal in Edmonton
Posted in Mold Removal, on August 11, 2021
---
Mold doesn't start off as dangerous; in fact, microscopic spores naturally exist all around us. The problem arises when mold starts to grow in their ideal environment, like a basement, due to the lack of light, ventilation and increased humidity. When mold gets to the stage of a full-blown infestation, mold removal in Edmonton becomes required.
Mold often goes undetected in basements because its notorious odour is generally well removed from the rest of the house, and the physical symptoms are assumed to be just light allergies. If you find mold yourself, it's time to contact mold removal services in Edmonton to eliminate the problem.
If you're unsure about mold in your basement, don't hesitate to contact our experts at Canada Restoration Services. We provide free mold inspections and send all samples to a third party for fast and unbiased results. Our team will help you with everything necessary for mold removal in Edmonton.
Continue reading to learn about basement mold growth and how to ensure a mold-resistant environment.
Conditions Supporting Mold Growth and Prevention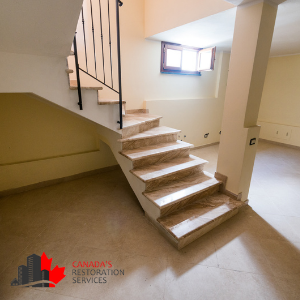 Basement mold is often a result of a damp environment, lack of light, and poor ventilation from everyday activities, such as cooking, hot showers, and laundry. When humidity, minimal airflow, and no natural light come into play, mold thrives.
Moisture in the basement can come from an indoor water source, such as leaky pipes and condensation, or an outdoor water source, like water damage or flooding. It's key to keep up the maintenance of your basement in order to avoid water damage from happening; by letting water damage sit, even for a couple of days, mold will begin to fester.
To prevent your basement from becoming a breeding ground for mold, be diligent about managing humidity, whether it be through a hygrometer or dehumidifier. Additionally, to keep excess moisture at bay, ensure that walls, pipes, and windows in your basement are properly insulated to minimize condensation.
Increasing air flow is vital when it comes to a mold-resistant basement. Ventilation, either through opening a window or turning on a fan, can make a significant difference to the overall air quality of your basement.
Health Symptoms Related Mold Growth in Your Basement
Basements are commonly transformed into living spaces, such as bedrooms, family rooms, or even apartments. Mold in the basement can lead to further growth of toxic black mold, seriously affecting your health. Before you renovate your basement, contact our specialized team at Canada Restoration Services for mold removal services in Edmonton to ensure the safety of the space.
If you spend a significant amount of time in your basement, be aware of the symptoms related to mold exposure. What you may think are seasonal allergies could actually be a sign of mold; mold exposure leads to a trigger of allergy-like symptoms, such as shortness of breath, sinus issues, and chronic coughing. Aspergillus and black mold — both common types within the home — can lead to severe illnesses attacking the respiratory system.
Mold Removal Services: Where to Start
Canada Restoration Services is the industry leader for mold removal services in Edmonton, and we will effectively eliminate the problem. Following mold removal, our team of knowledgeable specialists will help guide you on how to further prevent mold growth from happening in your basement. Always keep in mind that managing humidity, heat, and moisture are critical to stopping mold growth in the future.
Contact Canada Restoration Services today for safe and comprehensive mold remediation services in Edmonton.