How to Address Office Mold & Water Damage
Posted in Mold Removal, on April 24, 2023
---
For the safety and health of your employees, it is best practice to address mold and water damage in Toronto as soon as it is discovered in your office. If the water damage results from a flood, it's essential to take action sooner rather than later to limit damage and protect your property. Due to serious safety concerns, it is best to contact a professional company that can safely perform flood cleanups and flood restoration services. Swift action and water damage restoration can help reduce the extent of mold growth and other types of secondary water damage. Canada's Restorations Services are leaders in effectively providing emergency water damage services and mold removal in Toronto.
Read on to learn more about addressing office mold and water damage.
Safety First After a Flood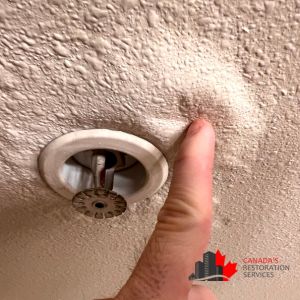 Depending on the source of the flood, especially in the case of sewage and drain backups, floodwater can carry dangerous chemicals that should not be inhaled or touched. To avoid contact with skin or airways, contact the professionals at Canada's Restoration Services for safe, quick, and throughout flood damage restoration. Using our expertise and advanced equipment, from dehumidifiers to thermal imaging leak detection, our restoration technicians will help you assess the extent of damage and reverse it.
Mold Removal in Toronto
In most cases where you have suffered water damage and haven't used a certified restoration company in Toronto for the cleanup, mold infestation is likely to follow. Mold removal in Toronto must be carried out with care to ensure the mold is removed safely. If the spores are disrupted, exposure eventually leads to illness. Certain types of mold are also toxic, so ensuring all mold is removed thoroughly and safely will help contain its spread and keep your team safe.
If your office hasn't suffered a leak, but you suspect mold is still present, you should still contact a professional mold remediation service for an inspection. Mold can grow in areas with limited ventilation, moisture, and organic matter. You want to address a mold issue with the same urgency that you would for a flood, as mold can cause your team to become seriously ill, and it can destroy the materials it grows on, which will lead to increased repair costs for your business.
Offices Should Avoid DIY Mold Removal
Many homemade solutions are used to fight against mold infestation, from vinegar to lemon juice. Trying a DIY remedy for an office is not recommended, as certified restoration professionals can diagnose the origin of the issue and help ensure your office is not repeatedly dealing with mold growth. Canada's Restoration Services will inspect the location, identify the mold type and conduct the required remediation services at affordable mold removal costs.
Canada's Restoration Services for Mold Removal and Water Damage
Canada's Restoration Services is a multi-award-winning certified restoration company that offers 24/7 emergency services for flood and water damage throughout the Greater Toronto Area and other major cities across Canada. When it comes to mold and water damage remediation, trust our team to the highest-level of workmanship.