How Hurricane Season Leads to Water Damage in Toronto
Posted in Flood & Water Damage, on September 30, 2023
---
Although Toronto isn't directly affected by hurricanes that usually impact the southern United States and the Caribbean, hurricane season can indirectly result in water damage in Toronto despite the city's distance from typical hurricane-prone areas even as far inland as Toronto. The influx of tropical storms that occur during fall can trigger heavy rainfall, strong winds, and storm-related events. Canada Restoration Services can help with water damage restoration and mold removal in Toronto if your home is affected by this damage.
To learn more about how your property can be affected during hurricane season, read on.
Tropical Storms Transition to Canada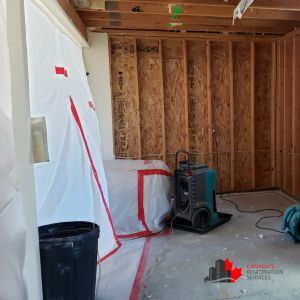 Occasionally, the remnants of hurricanes or tropical storms can move into northeastern and eastern Canada, including Toronto. As these storms move towards the city, they can bring substantial rainfall and powerful winds to the region, causing flash floods, sewer system overflows, and localized water damage in Toronto. The damage caused in just a few days from these intense weather events often have many harmful after effects, that are best dealt with by an experienced restoration company.
The Impact of Heavy Precipitation
Hurricanes are known for carrying large amounts of moisture. When these storms interact with other weather systems or transform into extratropical storms, they can release significant rainfall over a broad area, including Toronto. This heightened rainfall can result in flooding in low-lying areas as well as flooding into basements. Attic leaks are also a big problem, all of which Canada Restoration Services provides a solution.
Urban Flooding
During heavy rainfall, the city's stormwater drains can become overwhelmed, causing flooding on streets and in neighbourhoods. This is because, like most populous city areas, Toronto has many impermeable surfaces, such as roads and buildings. This can result in water damage to private homes, commercial businesses, and vehicles.
The heavy rainfall caused by hurricanes can also cause water levels in rivers and streams in the area to rise. These overflowing rivers can flood nearby communities and cause major property damage if water damage restoration is not conducted by a professional.
Power Outages
Hurricanes often result in power outages in affected areas. Without electricity, sump pumps, which are commonly used in basements to prevent flooding, may fail. This can lead to basement flooding and substantial water damage.
Tree Damage
Strong hurricane and tropical storm winds can uproot trees or break branches. Falling trees and debris can damage roofs, windows, and siding, allowing rainwater to enter homes and cause interior water damage
Flood Precautions
To minimize the risk of water damage in Toronto during hurricane season, residents should:
Ensure proper home drainage, including clean and well-maintained gutters and downspouts.
Install backflow prevention valves in sewer systems to reduce the risk of sewer backups.
Maintain a functional sump pump with a backup power source to prevent basement flooding.
Trim or remove trees that pose a risk of falling on structures during strong winds.
Consider obtaining flood insurance coverage, as standard home insurance policies may not cover flood-related damage.
Water Damage Remediation Experts at Canada's Restoration Services
Taking swift action is essential to minimize additional damage and guarantee the well-being of both you and your family. In cases of extensive damage like attic leaks and basement flooding or when uncertainties arise during the restoration process, the best solution is to enlist the expertise of professionals at Canada's Restoration Services for water damage restoration services to get your home or building back to health. When you need us, we'll respond for water damage in Toronto, in just 45 minutes or less.