How Does Mold Become a Problem in My Home
Posted in Mold Removal, on June 22, 2021
---
Mold only announces itself in the home once it has become a full-blown infestation, calling the attention of homeowners with unpleasant musty-smelling odours. Once a mold infestation occurs, it can spread to multiple rooms, ruin property, and cause significant health concerns.
The most effective way to identify mold in your home is with a home inspection and professional mold testing in Mississauga. But even with the best mold testing, it doesn't stop mold from infiltrating in the first place. Read on to learn how mold gets into your home and learn what you can do to prevent it from spreading.
How Does Mold Get In?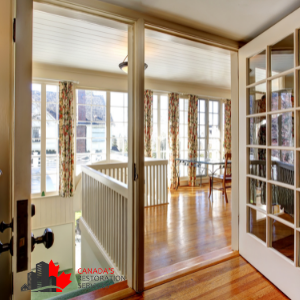 Mold is essentially a fungus that comes in a variety of species, all of which exist naturally outdoors. However, mold can enter the home through open doors, windows, and vents. Airborne mold can be carried indoors, piggy-backing on people, pets, or objects. Once inside, mold spores spread throughout the home from room to room through the HVAC system.
When Does Mold Become A Problem?
Mold can become a problem when it starts to fester, taking hold and spreading within your home. If there is excessive moisture or humidity, organic materials, and darkness, mold will thrive.
The more toxic the mold, the more of a problem it is to your health, your family, and the integrity of your house. If you think there could be mold in your home, an inspection service will be able to identify any infestations. At Canada's Restoration Services, we offer fast, 3rd party mold testing in Mississauga so you can quickly identify any species of mold that pose a health risk and remove it.
Signs There's a Mold Infestation in Your Home
an earthy, musty smell
a damp environment with poor ventilation
poor temperature regulation
leaks, drips, or floods.
You might also notice unusual or dark spots, fuzzy or velvety textures, and moisture. If you notice any of these signs, call Canada's Restoration Service for a comprehensive mold inspection in Mississauga to catch an infestation before it gets out of control.
Where Does Mold Grow?
Mold thrives in a moist environment. Organic materials and items with high cellulose content, such as paper, wood, carpet, drywall, and upholstery, are all environments in which mold will grow. There are many areas in the home that a mold inspection in Mississauga will target primarily: the attic, basement, and crawl spaces, all of which can be conducive to mold growth.
Why Is Mold Dangerous?
Mold can cause a variety of health concerns, from allergic responses to general irritation, and can be quite dangerous, making it important to get mold removed as soon as possible. Calling a professional for testing, inspection, and remediation is the best choice — which is where Canada's Restoration Services can help! We can help you prevent mold growth from becoming a problem by identifying the source, making recommendations, and giving you a timely estimate.
How to Prevent Mold?
Some practical solutions include reducing the humidity inside the home and conducting regular inspections to stave off future infestations and eliminate any new growth.
Vent attic and basement
Use a Dehumidifier
Mold-Killing Cleaning Products
Maintain Gutters and Drains
Clean Up Leaks
While it's extremely common to have mold, that doesn't mean you have to live with it.
Call Canada Restoration Services today for professional mold removal in Toronto and Mississauga!