How Do Negative Air Machines Play into Asbestos Abatement in Toronto
Posted in Asbestos Removal, on January 06, 2022
---
When conducting asbestos abatement in Toronto, experts at Canada's Restoration Services take a number of careful steps to ensure full containment and avoid any risk of cross contamination or exposure.
But does the complete containment procedure look like? It involves the use of negative air pressure, as well as decontamination showers and chambers that allow for a successful and safe removal of asbestos. That's why it's important for professionals in asbestos abatement to perform asbestos testing in Toronto beforehand to gauge the danger level posed by the asbestos that's present on your property.
The Role Of Negative Air Machines In Asbestos Abatement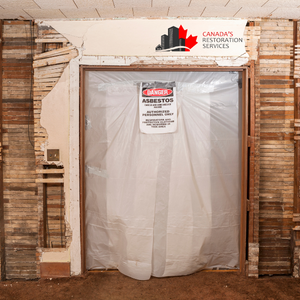 Negative air machines play a crucial role in asbestos abatement in Toronto. Not only do the machines clean the air, but they also circulate positive or negative air pressure, depending on the situation. Negative air pressure works to prevent the spread of asbestos fibres in a room by isolating the space. Positive air pressure, on the other hand, is designed to keep the room's occupants safe by preventing outside air from entering the room and contaminating the space.
Following inspections and asbestos testing in Toronto, experts at Canada's Restoration Services follow a strategic containment procedure that involves wetting the asbestos fibres to prevent the mineral from becoming airborne. The plaster will then be removed and placed in sealed safety hazard bags.
Air scrubbing machines equipped with HEPA filtration systems are in operation throughout the entire process. Negative air machines will typically come with a pre-filter to prevent larger asbestos particles from breaching the HEPA filter.
Sealing And Room Configurations
An integral step in the process of asbestos abatement in Toronto is sealing the room: an effort to effectively achieve total isolation of the fibres. Before a negative air machine is installed, asbestos abatement experts at Canada's Restoration Services will use tape to seal any windows or areas where air could be drawn in. With less air leaking into the room, the distinction in air pressure can be more efficiently maintained.
During asbestos removal in Toronto, experts configure the negative air machine in one of two different ways. The first option is exhausting the air to a corridor located outside of the room. The second is ducting and feeding the filtered air outside via an exterior wall or window.
Leave Asbestos Removal To The Professionals
Asbestos abatement in Toronto should be left to professionals at Canada's Restoration Services, as it is no easy task. Attempting to remove asbestos at your own risk can result in serious, long-term health conditions such as lung cancer.
If you have concerns that asbestos is present on your property, contact Canada's Restoration Services for immediate asbestos testing in Toronto. Our team will conduct a full, comprehensive inspection before providing samples to a third-party lab for testing. Once any asbestos-containing materials are identified on your property, we provide a detailed report of the level of danger it presents before promptly getting on track for a full-scale asbestos removal.
Contact us now to talk to an asbestos expert at Canada's Restoration Services today!