How do HEPA filters help with Asbestos Removal in Toronto?
Posted in Asbestos Removal, on September 01, 2021
---
It never hurts to improve the air quality in your home, there are many easy ways to go about doing that including diffusers and air purifiers but what about a HEPA filter? High-Efficiency Particulate Air (HEPA) filters are a fantastic tool and a great way to remove most allergens, dust particles and even help with professional asbestos removal in Toronto. If your home was built before the 1990s, asbestos has likely been used in some of the building materials which means you could be at risk of asbestos exposure. To ensure your health and safety or even make future renovations easier, contact Canada's Restoration Services for asbestos testing in Toronto.
Continue reading to learn about HEPA filters when it comes to asbestos removal in Toronto.
Why Do You Need to Eliminate Asbestos Fibres?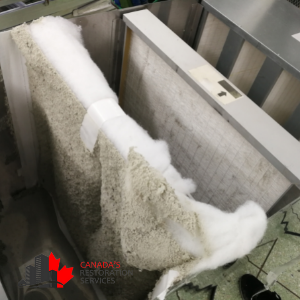 If asbestos fibres are untouched and sealed away, it may not have to be removed immediately. The problem arises when the fibres become disrupted, even slightly. Asbestos fibres break down so quickly and easily into microscopic particles that can be unknowingly inhaled. Once inhaled, the particles can cause lung scarring and long-term illnesses, such as Mesothelioma, lung cancer, and asbestosis, all of which severely affect the respiratory system. It's critical to your health to know if asbestos is in your home and remove it as soon as possible.
It's difficult for the untrained eye to identify asbestos without putting themself at risk, especially when mixed into various building materials like asbestos. If you perform routine maintenance, especially around plumbing or pipes, or have frequent home projects, it's best to contact a service for asbestos testing in Toronto. Canada's Restoration Services conducts thorough asbestos testing to determine if asbestos is in your home, the type and if you're at risk for exposure.
Can a HEPA Filter Remove Asbestos?
HEPA filters are a significant part of professional asbestos removal in Toronto and are used with air purifiers and vacuums by certified professionals for asbestos remediation services. HEPA filters eliminate 99.97% of tiny contaminants within the air by capturing microscopic particles that are potentially harmful to humans, including mold spores, viral organisms, dust, animal dander, and even asbestos fibres.
For a HEPA filter to work its magic, the room it's in must have all airways completely sealed and left for a period of time. If doors, windows, or vents aren't properly sealed, the unit loses its efficiency and can sometimes take days to remove allergens, asbestos, and other particles from the air.
Although effective, HEPA filters on their own aren't powerful enough for complete asbestos removal. They are a great way to capture airborne asbestos fibres, but they can't eliminate the problem altogether. If the direct source hasn't been identified or removed, asbestos will be an ongoing problem until a professional removal service becomes involved. The best thing to do is to contact Canada's Restoration Services to address the source and eliminate it altogether.
Professional Asbestos Removal
Without a doubt, a HEPA filter is a great tool, but when it comes to asbestos removal, don't DIY it. Asbestos is a hazardous material, and only professionals with the right equipment should be removing it. Leave it to our IICRC certified team at Canada's Restoration Services for all your asbestos-related needs.
For safe and comprehensive asbestos remediation services in Toronto, Canada's Restoration Services is the trusted industry leader. We offer 24/7 customer service, and when urgent action is needed, we can come to you within 45 minutes of your call.
Contact Canada's Restoration Services today to learn more about asbestos removal services in your city.