How Can Fireplace Mold Removal Save Your Whole Home?
Posted in Mold Removal, on February 14, 2022
---
Remote mold outbreaks are never truly isolated — mold in one room or area is a threat to every room in your home. Without professional mold removal Toronto, outbreaks will only grow larger and spread throughout your home, like the bathroom, kitchen, or even in the fireplace. Fireplace mold is not uncommon, but it's often difficult to detect. If you catch a whiff of the distinct odour of mold coming from your fireplace, it's time to call Canada's Restoration Services for a mold inspection in Toronto. Our team of trusted professionals will identify and eliminate all sources of mold in your fireplace and guide you on preventing it from happening again.
To learn more about fireplace mold in your home, continue reading.
Why Does Mold Like Chimneys?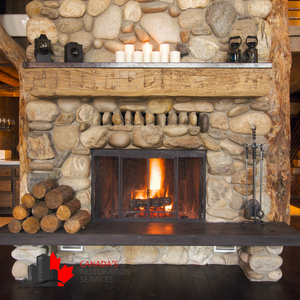 Chimneys are safe havens for mold — they're usually undisturbed, dark, with a source of moisture and no airflow. Poor ventilation enables mold spores to settle and thrive. When stale air is paired with condensation that collects in chimneys, there is ample opportunity for mold spores to fester and grow quickly.
Although chimneys are usually safe from excessive moisture, there are a few instances where water will get into your chimney and create a moisture-rich environment. If your chimney cover is broken, or your chimney cap is damaged due to rust or improper installation, water will enter your chimney and create an environment for mold to grow within your chimney and fireplace. Additionally, if your chimney isn't fully waterproofed, water will easily seep through, making your chimney dark, damp, and perfect for mold growth.
If you suspect your chimney may be damaged and letting in moisture, contact Canada's Restoration Services for a mold inspection in Toronto. Our team will arrive quickly to your home and determine if mold is present in your fireplace. After identifying the outbreaks of mold in your home, we will conduct a comprehensive and effective action plan for mold removal in your Toronto home.
How to Detect Mold in the Fireplace
Chimneys and fireplaces aren't often inspected by homeowners enabling mold infestations to frequently go undetected. Before a mold inspection in Toronto, the most effective way to independently tell if mold is in your fireplace or chimney is to use your sense of smell. Mold has a unique musty, pungent odour. So if you open your fireplace and recognize that undeniable scent, you'll likely need to call in a professional for mold removal in Toronto. Although mold usually grows inside fireplaces due to the stale air and darkness, it is possible for it to spread to the bricks outside of your fireplace, so keep an eye out for any unfamiliar discolourations on your fireplace.
How to Prevent Fireplace Mold
When you first discover mold, it needs to be professionally eradicated. Without taking the necessary steps and precautions following removal, mold will grow back with a vengeance. If you want to prevent future mold outbreaks, you must waterproof your chimney and keep humidity in your home low. If you eliminate the source of water in your fireplace and chimney, you'll have an easier time leaving mold outbreaks in the past.
When to Call the Professionals
Mold removal is not something you do on your own. If mold is in your fireplace, you need to contact the certified professionals at Canada's Restoration Services for a thorough inspection and removal.
Schedule a mold inspection in Toronto today with the top mold removal technicians at Canada's Restoration Services.