How Can Exposed Asbestos Be Contained
Posted in Asbestos Removal, on November 22, 2021
---
When asbestos is encountered on-site, it presents an imminent threat to the health and safety of everyone in the vicinity. However, a few necessary steps need to be taken to ensure effective asbestos removal in Vancouver before the mineral can be eliminated entirely. Asbestos inspections and asbestos testing in Vancouver are two preliminary phases asbestos abatement contractors use to identify all potential asbestos on a property and assess the threat level.
In the meantime, containing potential asbestos is essential to protect anyone in the area from asbestos exposure.
When you call Canada's Restoration Services for asbestos removal in Vancouver, we will assist with containing asbestos-contaminated sites in residential and commercial properties.
Identify Asbestos Containing Materials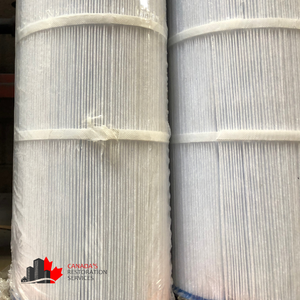 The first step to containing asbestos is identifying that there is a highly probable presence of the mineral. Asbestos is far more tricky to locate than many hazardous materials since it lacks any definitive empirical qualities. The best way to make the determination is with professional asbestos testing in Vancouver. At Canada's Restoration Services, our technicians carefully collect samples to 3rd party laboratories, where they are evaluated to determine the asbestos concentration and the type of asbestos.
To know if you should even be calling professional asbestos abatement contractors for asbestos removal and testing in Vancouver, a general history of asbestos use can help. The mineral was used between the 1950s and 1990s and has been detected in more than 3000 20th century properties. Building materials that had most commonly used asbestos include, but are not limited to, popcorn ceilings, pipe wrap, insulation, drywall, flooring, ceiling tiles, and roofing materials.
On-Site Asbestos Containment
Rooms, spaces, and buildings in general that are suspected of asbestos contamination should be labelled and vacated until asbestos testing in Vancouver confirms the threat level. To ensure that friable asbestos does not become airborne, asbestos contractors may use drop cloths, HEPA filters, or asbestos encapsulation to prevent disruption of the sensitive mineral.
HEPA Filters: High-efficiency particulate absorbing filters can help remove airborne asbestos fibres with incredible effectiveness. Use HEPA filters under the guidance of professionals.
Asbestos Encapsulation: Asbestos encapsulation is not asbestos removal in Vancouver. It is a long-term solution that prevents non-friable asbestos fibres from becoming airborne with a special solution. Asbestos encapsulation should only be done by professionals. Ask the technicians at Canada's Restoration Service to learn what the best solution is for your case.
Drop Cloth: Any interaction with asbestos should be cautious and left to the professionals. TThe slightest misstep could disrupt fibres and release them into the environment where they can be inhaled. A specialty drop cloth may be used to keep fibres of asbestos-containing materials down, but do not attempt on your own. Leave it to the trained technicians at Canada's Restoration Service.
What Not To Do Before Professional Asbestos Removal in Vancouver
There is an undeniable feeling of urgency when it comes to asbestos removal in Vancouver. This can sometimes lead people to feel as if they need to take matters into their own hands using methods such as vacuuming, sweeping, painting, wetting, or physically picking up asbestos to contain the material. But, these actions can put those who are unequipped too close to hazardous materials. Don't take on asbestos containment on your own. The technicians at Canada's Restoration Service are trained asbestos abatement professionals who can safely get your space asbestos-free.