Household Objects Mold May Be Hiding Behind
Posted in Mold Removal, on February 23, 2023
---
When mold infests your home, it can spread and take over your home, releasing toxins into the air. Until mold is identified and eliminated, it will continue to grow throughout your home, even behind household objects. Testing and inspections are the key to mold detection and mold removal in Toronto. When conducting mold inspections in Toronto, it's important to focus on rooms and household objects that spores are often attracted to and are vulnerable to infestations. For mold detection and removal services in the Greater Toronto Area, book a mold inspection with leading IICRC-certified teams at Canada's Restoration Services.
Read on to learn more about household objects that may be hiding mold.
Common Household Items That Contain Mold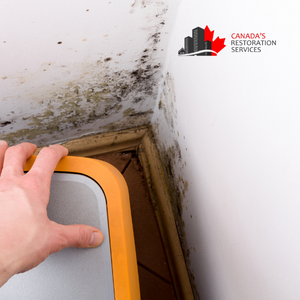 While mold is typically found in bathrooms, kitchens, basements, and attics, numerous household items harbour mold growth. Carpets and rugs, for instance, are susceptible to mold outbreaks, especially natural fibre carpets like jute, wool, and cotton. Natural fibre carpets have high moisture absorbency and organic material, making them attractive for lingering mold spores looking for a place to settle. Upholstered furniture is another household item that may be hiding mold. With upholstered furniture and other porous surfaces, it's difficult to fully eradicate mold from the object; the mold spores become deeply rooted in the material, so anytime you attempt to wipe away the stain, it will grow back. Other household items that may contain mold include drywall, mattresses, pillows, ceiling tiles, and laminate flooring, all of which require mold removal in Toronto.
Dangers of Undetected Mold
Mold spores will travel throughout your property, landing on different objects and rooms that provide the right conditions resulting in mold growth. If mold starts to grow in your attic or basement, it will inevitably lead to structural damage if it goes undetected for an extended period. Not only will mold infestations cause structural issues and wood rot, but after a while, the presence of mold will cause adverse health effects. Common symptoms related to mold exposure include congestion, sneezing, eye irritation, and headaches. For those with a sensitivity to mold, it may result in wheezing, shortness of breath, and fatigue. If you suspect mold is in your property and want to be cautious, contact Canada's Restoration Services for comprehensive mold inspections in Toronto. If mold is uncovered, we'll conduct effective mold removal in Toronto.
Conditions That Attract and Support Mold Growth
A few conditions support mold growth: high humidity, low ventilation, and the presence of organic material. Humidity attracts mold spores to an area in the first place — the water supply provides mold spores with a food source to flourish. Low ventilation allows the air to become stale and lets the mold spores settle. The presence of organic material, like cellulose insulation or dust around furniture, keeps the mold spores around; it provides them with a consistent food source to sustain the infestation.
How to Approach Mold Removal in Toronto Successfully
The only surefire way to eliminate mold is by contacting a certified professional. Do-it-yourself mold removal techniques aren't safe or effective and will often result in mold infestations returning quickly. To guarantee that mold is eradicated from your home and your household items, reach out to the certified specialists at Canada's Restoration Services.
Contact Canada's Restoration Services today.