Home Renovation Surprises You Can Avoid
Posted in Mold Removal, on May 24, 2022
---
Renovation season is upon us. With many homeowners having shelved their remodels and home upgrades in the past two years, now more than ever, it's time to break ground and get started on revamping your property. When you begin a renovation, it's important to remember that there is almost always a surprise factor that homeowners run into, making renovations more complicated than initially expected. Inevitable surprises can make renovations infinitely more complicated. To avoid these problems, find out if you need asbestos removal or mold remediation in Toronto with a professional mold inspection and asbestos inspection in Toronto.
Canada's Restoration Services offers complimentary mold and asbestos inspections in Toronto and elsewhere in Canada to help property owners get ahead of frustrating and dangerous renovation surprises. As a trusted home restoration company in Canada, we provide asbestos removal and mold remediation in Toronto to help you move on with your home projects safely.
Here's how you can avoid unwanted renovation surprises mid-renovation.
Conduct Mold & Asbestos Inspections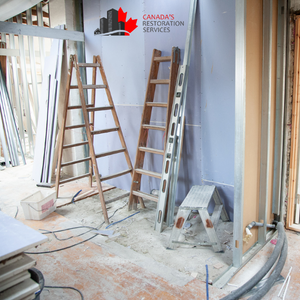 Consider where your renovations are being focused on and use expert mold and asbestos inspections to confidently determine whether your property is likely to be contaminated by one of these two dangerous contaminants. Asbestos inspections in Toronto are especially important in homes built between the 1960s and 1990s when the mineral was popularly used in the construction of residential and commercial properties. On the other hand, mold remediation in Toronto is most frequently required in humid rooms with water sources such as bathrooms, attics, basements, and kitchens, so mold inspections are best focused in these areas. But, since mold travels quickly and grows exponentially, a comprehensive assessment of the entire home should not be overlooked.
Where Asbestos Might Be Hiding
Pipes
Ceiling Tiles
Floor Tiles
Popcorn Ceilings/Stucco
Air Ducts
Drywall
Where Mold Is Likely to Infest
Bathroom Tiles
Ceilings & Drywall
Insulation
Vents
Water Heater
Furnace
Mold Remediation in Toronto
If your mold inspection detects an outbreak in your home, mold remediation in Toronto before beginning renovations. With complete mold removal, you, your family, and your contractors will be spared the effects of long-term mold exposure, including coughing, wheezing, skin irritation, eye irritation, headaches, nausea, and more. You'll also stop mold from spreading to other building materials throughout your home.
Asbestos Abatement in Toronto
Asbestos removal in Toronto prior to beginning construction at home is critical to protecting everyone in your home from the accidental inhalation of the mineral's dangerous fibres. Actions associated with renovations, including touching, sawing, cutting, wetting, and drilling, can easily disturb decaying asbestos fibres, causing them to go airborne and infiltrate the air, creating a hazardous environment. With expert abatement from Canada's Restoration Services, you can eliminate all traces of asbestos with asbestos removal in Toronto.
Protecting Your Home During Renovations
For the most reliable home restoration services in the Greater Toronto Area, from mold remediation to asbestos abatement, trust Canada's Restoration Services. Our technicians are all IICRC certified and equipped with the resources to provide safe and effective results.