Fall Water Damage Prevention Guide
Posted in Flood & Water Damage, on October 31, 2023
---
As the leaves undergo their autumn transformation and the air adopts a refreshing chill, it's crucial to bear in mind that the fall season brings unique challenges for homeowners, with one of the major concerns being water damage. Significant water damage in Toronto comes from heavy autumn rains, contributing to the risk of water damage during this season. Industry leaders in water damage restoration, Canada's Restoration Services, are just a phone call away if you want the job done efficiently and professionally.
Read on to explore effective strategies for water damage prevention.
Maintaining Your Gutters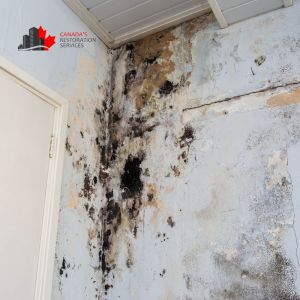 One of the main culprits behind fall water damage is obstructed gutters. Accumulated leaves and twigs in your gutter system can impede the natural flow of rainwater. It's essential to routinely remove this debris to guarantee unobstructed water drainage and prevent water from infiltrating your home. This is particularly important in Autumn when leaves are falling. Conduct a thorough examination of your gutters to identify any cracks, leaks, or loose attachments. Tackle any issues promptly to prevent potential overflow or water seepage into your living spaces. Extending your downspouts can redirect water away from the foundation of your home. This simple measure helps stave off the pooling of rainwater around your house, mitigating the risk of basement flooding and structural harm.
Roof Assessment
Survey for Damages by carefully inspecting your roof for loose or impaired shingles. Often, fall ushers in heavy rain and, in some regions, even early snowfall. Replacing any damaged shingles can help prevent roof leaks. The descent of branches can inflict substantial damage to your roof. Trim any overhanging branches to diminish the risk of debris wreaking havoc on your roof during inclement weather.
Waterproofing
Ensure that your windows and doors boast effective weather stripping. Breaches in these seals can provide entry points for water. If necessary, replace or repair the weather stripping to maintain a watertight seal. Consider waterproofing your basement if it tends to be damp. Sealing cracks and applying waterproof coatings can stave off water infiltration through the walls.
Outdoor Drainage Solutions
Skillful yard grading guides water away from your residence. Confirm that your yard is appropriately sloped away from the foundation to prevent water accumulation close to your home. If necessary, a French drain can help redirect water here. Clear yard debris by routinely raking fallen leaves and other debris from your yard. Damp leaves can create slippery surfaces and potentially obstruct drainage pathways. Autumn season wind gusts can transform outdoor furniture into projectiles capable of damaging your residence or windows. Secure or store outdoor items when they're not in use.
Sump Pump Care
If your dwelling features a sump pump, perform regular tests to verify its optimal functioning. The deluge of fall rains could lead to basement flooding if your sump pump isn't operating at peak efficiency. Installing a backup sump pump in the event of a power outage, a battery-powered backup sump pump system can serve as a safeguard against basement flooding.
Insulate Your Pipes
As temperatures plummet, take precautions to insulate exposed pipes, safeguarding them from freezing and the subsequent risk of bursting. Frozen pipes can cause substantial water damage and costly repairs.
Get Fast & Reliable Water Damage Restoration Services
With water damage restoration professionals, Canada's Restoration Services, you can enjoy the comfort of your home safely throughout this challenging season. When water damage occurs, contact the local and experienced team you trust at Canada's Restoration Services. We will respond within an hour to start your restoration efforts sooner rather than later.