Easiest At Home Detection Tips in Mississauga
Posted in Mold Removal, on August 23, 2021
---
At home mold detection comes down to our two primary senses: sight and smell. For early detection in your home, you'll need to seek out professional mold testing in Mississauga in most cases. Since mold is typically undetectable in its early stages, especially in hidden areas of a property, it's important to learn the conditions in which mold can thrive. Aside from the obvious signs of growth your nose and eyes won't be able to effectively identify hidden outbreaks until they escalate into a full-blown infestation, so a mold inspection in Mississauga is the best way to detect mold in any residential or commercial space.
Call Canada's Restoration Service for a comprehensive mold inspection in Mississauga. Read on to learn how to detect mold on your own.
Where Mold Infestations Grow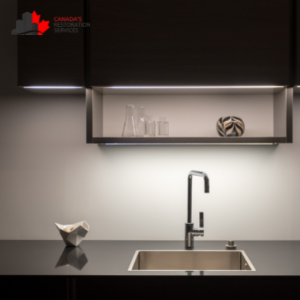 Mold needs the right environment to grow, one that includes moisture, darkness, and organic materials. For instance, your attic or basement has a high probability of mold growth because of reduced ventilation, minimal light, humid air, and the presence of wood or insulation.
Bathrooms and kitchens are also common locations of mold infestations, especially where there is no ventilation. Chances are, if you enjoy steaming hot showers and fogging up the mirror — without having the fan on — there's mold. The same goes for the kitchen. Ventilation is vital to a mold-free home, especially with steam and constant cooking.
As luck would have it, mold infestations usually occur out of sight. It could be under your carpets, floorboards, or even behind your fridge. To ensure you and your home are as healthy as possible, Canada's Restoration Services offers free mold inspections in Mississauga to help you combat any visible or invisible infestations.
Colour and Odour
Mold has a horribly distinct smell. It's pungent, musty, and almost smells like something is rotting. Most of the time, you can smell mold before you see it, alerting your senses immediately. If you notice an odour that could be mold, call CRS on scene for an inspection and 3rd party mold testing in Mississauga.
Testing for the species of the mold before removal is essential for identifying any implications for your health and safety. Some species are dangerous and could have grown into other parts of your home.
On the off chance that you don't smell mold, keep an eye out for the visible signs. Mold typically looks fuzzy, dark green, or even yellow. If it's black, then it's likely toxic mold, in which case you need to get a professional mold removal service right away.
Health Symptoms
If you experience what you think are allergies whenever you walk into your home, you might have a mold infestation. A mold inspection in Mississauga can help you determine what kind of species of mold you're dealing with and which are most likely to cause significant health effects. Black mold and aspergillus mold have the highest chance of leading to severe health issues, whereas allergenic mold usually only targets people with respiratory and allergy problems.
History of Water Damage in Your Home
Any kind of water damage can lead to mold infestations, from minor plumbing leaks to a flood that happened in the past. If you know that your home has had previous water damage, check behind drywall, around pipes or plumbing lines. If water damage restoration wasn't completed immediately following a leak or a flood, mold growth is likely present.
Mold Inspection with Canada's Restoration Services
Canada's Restoration Services offers free, advanced, and safe mold inspections in Mississauga. Our certified and trusted team makes sure to check every possible place for mold growth in your home, and if it's present, we will find it and effectively eliminate it.
Contact Canada's Restoration Services for a full range of mold remediation services.