Does Passive Ventilation Reduce Need for Mold Removal in Toronto
Posted in Mold Removal, on December 14, 2021
---
Toronto's old heritage homes are highly sought after, and they come with a lot of history and excellent qualities. However, many of these older homes and their design have minimal ventilation, resulting in poor indoor air quality and mold growth. Ultimately, lackluster ventilation requires professional mold removal in Toronto. In the chance that you notice your Toronto home is feeling particularly humid, check if you have a functioning ventilation system in place and contact Canada's Restoration Services for mold inspections in Toronto. If you're interested in improving your homes' indoor air quality, a passive ventilation system is something to consider; it essentially helps your home breathe in the fresh air and circulate it throughout.
To learn more about how ventilation affects mold in your home, continue reading.
Why Does Poor Air Quality Cause Mold Growth?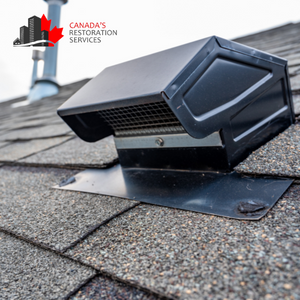 When you enter your home, you want to be greeted with fresh, crisp air; not stale, humid air. Poor indoor air quality and mold go hand in hand. When humidity and limited airflow are added to the mix, mold spores will fester into full-blown outbreaks. If you're greeted with a small mold outbreak in your home, contact our trusted professionals at Canada's Restoration Services for mold inspections in Toronto. We provide advanced and comprehensive mold inspections to identify all sources of mold, providing safe and thorough mold removal in your Toronto home.
Why Are Repeat Outbreaks Happening?
If your home isn't ventilated well, the conditions conducive to mold are heightened, causing spores in the air to settle and infest the property. Unfortunately, mold is more than a minor inconvenience. Lingering outbreaks contaminate the air, harm the structure, and impact the health of occupants. Poor ventilation welcomes mold with open arms, and if your home ventilation system isn't functioning well, it will result in repeated outbreaks. To avoid repeat mold removal in Toronto, Canada's Restoration Services for complete mold remediation services. Our team effectively assesses the scope of mold and removes it to prevent recurrences.
What Is Passive Ventilation?
Passive ventilation is a low-effort way to improve ventilation throughout your home. Exterior vents allow clean outside air to enter and circulate your home, forcing out the humid, potentially contaminated indoor air through exhaust pipes. Essentially, this system facilitates natural airflow. Unlike many other ventilation systems, passive ventilation doesn't require electricity, so it's incredibly energy-efficient and cost-effective. Aside from occasionally cleaning the filter, it's also very low-maintenance.
It's important to note passive ventilation systems don't completely eliminate the risk of mold in your home. While there are several benefits to a passive ventilation system, blocked vents and exhaust pipes may thwart the system, allowing some mold to take hold. Stay alert, and if you sense mold, be its musty odour or spotty staining, Canada's Restoration Services can help.
Professional Mold Remediation Services
Our goal at Canada's Restoration Services is to ensure that your home is healthy and that you're safe. Consistent ventilation throughout your home is key in maintaining healthy air quality and keeping those pesky mold spores from settling in the dark corners of your home.