Does Insurance Cover Mold Removal Costs in Mississauga?
Posted in Mold Removal, on November 12, 2021
---
There's a variety of factors that can result in mold infestations, most commonly water damage, excessive humidity, or accidental neglect. As a result, mold removal in Mississauga is a frequently requested service. Since the need for mold removal is often not planned for by property owners, mold removal costs are often to an unexpected extent. Naturally, those who are looking to manage the costs of mold removal, consider whether insurance will cover mold remediation services. When it comes to mold removal in Mississauga, mold removal costs and insurance is better understood on a case by case business, but here are typical insurance policies regarding mold remediation services around Mississauga and the Greater Toronto Area.
Covered Perils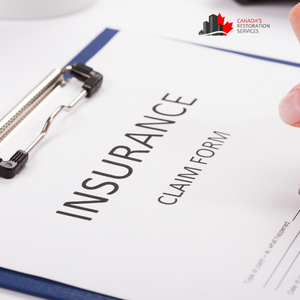 Home insurance policies give a list of covered perils, which is essentially a list of cases in which property damage is covered by your insurance policy. Seeing as the leading cause of mold infestations is water damage, either through natural disasters, a burst or leaky pipe, consider which water-related perils are covered in your policy.
Mold removal costs might be covered by your insurance if it was deemed as resulting damage from another incident. For instance, if your water heater leaks and results in water damage and inevitable mold growth, your insurance policy will typically cover some of the remediation costs, the wall repair costs, but not the hot water tank replacement. It's also worthy to note that the amount your policy covers can vary.
Acts of Nature
Sometimes, mold infestations can occur due to water damage from extreme weather or "acts of God" (events out of our control. Generally, coverage depends on the cause of damage. When it comes to mold infestations from flooding, standard homeowners insurance typically doesn't cover it; that requires flood insurance. If your neighbourhood is likely to flood, flood insurance may be worth the investment to cover potential damages, including mold removal in Mississauga.
Mold that develops in your home from other acts of nature, like a hurricane or an ice storm, may be covered under your insurance policy. For instance, if a hurricane damages your roof and causes a leak and inevitable mold infestations, you'll likely be able to claim for it.
Negligence
In essence, negligence means that the homeowner ignores home maintenance or repairs so much that they allow mold to develop. In this case, your insurance doesn't generally cover mold removal and remediation costs, considering there are ways that the mold infestation could have been prevented. For example, if you notice your toilet leaking and make no attempt to fix it, it'll inevitably cause water damage and mold growth; as a result, your insurance policy won't cover that.
If you have any questions about mold remediation services, we have 24/7 customer service.