Do Your Floors Need Mold Testing in Toronto?
Posted in Mold Removal, on January 05, 2022
---
Pesky mold spores will settle anywhere with the right conditions, and while infestations are common in basements, bathrooms, and attics, mold testing in Toronto often uncovers mold beneath the floors. Around the floors, mold often goes unnoticed simply because it's out of eyeline, but professional mold inspections from Canada's Restoration Services and third-party mold testing in Toronto will quickly identify all areas in need of mold remediation in Toronto. In order to completely eradicate mold from under your floors and prevent it from coming back, contact Canada's Restoration Services for mold remediation in Toronto.
Smell mold, but can't see it? Here's what you need to know about mold and home flooring materials.
Hardwood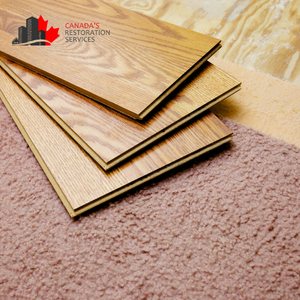 A seemingly minor event, like a spill or wet feet can turn hardwood into a magnet for lurking mold spores. As planks become more damp, the moisture and wood together create the perfect conditions for mold growth. Not only is there a water source under the floorboards, but there's also darkness and organic matter to feed off. Hardwood floors are porous materials, so it's difficult to fully eradicate mold unless professional mold removal specialists perform it. Contact Canada's Restoration Services for mold remediation in Toronto and avoid permanently damaging your hardwood floors.
Vinyl and Laminate
Vinyl and laminate floorboards are both durable and affordable alternatives to hardwood flooring. While vinyl is well-known to be waterproof, water will still flow through the cracks and grooves and become trapped under the planks, enabling breeding ground for mold. On the other hand, laminate isn't as durable and waterproof as vinyl plank flooring. When laminate is immersed in water, mold outbreaks below the surface are essentially inevitable. If you notice your laminate is buckling, it's a telltale sign of water saturation and mold growth. Even a small mold outbreak can cause permanent damage without professional intervention. The best way to prevent severe damage is fast action. At Canada's Restoration Services, we will conduct a fast and comprehensive inspections and mold testing in Toronto to find and eliminate all mold-contaminated areas in your home.
Carpeting
Wall to wall carpeting and area rugs are an ample breeding ground for mold. Like hardwood floors, carpets are a moisture trap, and the dust within the carpet provides mold with a constant food source. Any moisture will make a carpet more inclined to mold. Due to the soft absorbent nature of carpeting, moisture is difficult to eliminate completely, leaving a significant mold risk, especially if there is a mold outbreak elsewhere on your property or water damage in the area.
Under-Floor Asbestos Inspections in Toronto
A clear sign of mold growth happening under your floors is the odour. The pungent, musty, earthy scent of mold is a clear indicator mold is present in your home. Unfortunately, the signature odour of mold, usually comes when outbreaks are sizable, and challenging to eliminate without professional mold remediation services. To stop mold early, schedule a mold inspection in Toronto from the certified professionals at Canada's Restoration Services. Our team of trained technicians are IICRC certified, following industry standards and equipped with years of experience.