Are Frozen Pipes An Asbestos Threat In Toronto?
Posted in Asbestos Removal, on January 04, 2022
---
Winters can get pretty cruel in the Greater Toronto Area, and, as freezing temperatures can create all sorts of problems for your home like frozen and burst pipes, especially if your property was built between the 1950s and 1980s.
Without asbestos removal in Toronto, the headache of a burst pipe is magnified, requiring an immediate response. A burst or frozen pipe is all too common for such homes when the frigid cold strikes. It's a headache that can be magnified when A pipe has not previously undergone asbestos removal in Toronto. Professionals in the industry of asbestos testing in Toronto continue to find asbestos fibres in older homes, when the mineral was heavily used for insulation purposes, such as protecting pipes from freezing over.
Finding Asbestos in Water Pipes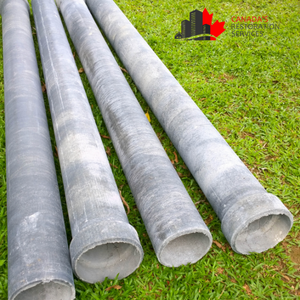 Before people were aware of the dangers of inhaling asbestos fibres, the mineral was utilized for all sorts of purposes in the construction of old commercial and residential buildings. Due to its heat resistance, pipe wall insulation and pipe wrap were just some of the many common asbestos-containing materials employed to strengthen ceiling and floor tiles, walls, and more.
Asbestos testing in Toronto has found that asbestos used as pipe insulation to be one of the more hazardous forms of the mineral, as the fibres are typically in a fragile and crumbling state. Asbestos in this condition is known as friable asbestos, meaning that the fibres can turn to dust. This not only increases the risk of breathing in the mineral, but the fibres can also seep into the water and flow into your home.
Asbestos testing from Canada's Restoration Services will accurately determine the risk of asbestos on your property and within your pipes to assess whether you require asbestos removal in Toronto. The sooner you schedule an asbestos inspection, the more likely you're able to prevent asbestos exposure from burst pipes in Toronto.
Professionals who provide services in asbestos removal in Toronto, such as Canada's Restoration Services, continue to find the mineral present as insulation for protecting pipes in older homes.
What Causes Pipes To Burst?
When the temperature drops, water freezes and expands, putting pressure on the pipe. Since there is nowhere for the ice to escape, pressure builds, resulting in the pipe bursting apart. A burst asbestos-containing pipe creates an imminent risk of asbestos exposure as friable fibres easily become airborne. Ruptured by slight contact, the mineral rapidly divides until it's fine enough to be inhaled and cause chronic illness.
Asbestos Removal in Toronto for Pipes
First and foremost, if you suspect that a pipe in your home that is frozen or has burst may contain asbestos, avoid addressing the issue on your own. Homeowners put themselves at serious risk when attempting to clean up the damage themselves, as exposure to asbestos is not immediately apparent. In fact, it may take up to 20 to 50 years for symptoms to develop after first exposure.
The best course of action when dealing with such an issue is to contact an expert in asbestos removal in Toronto, such as Canada's Restoration Services, who also provide asbestos testing in Toronto prior to the actual removal process.
Canada's Restoration Services' asbestos testing and removal service feature an asbestos inspection, where samples are taken and provided to a lab to verify the presence of asbestos. If the presence of asbestos is confirmed, full containment gear and equipment are deployed to prevent belongings from being at risk of any cross-contamination during the procedure.
Contact us now to talk to an asbestos expert at Canada's Restoration Services today!