Do Fires Cause Asbestos Damage?
Posted in Asbestos Removal, on March 10, 2022
---
Its resistance to heat, efficiency as an insulator and non-flammable properties were some of the main reasons why asbestos-containing materials were commonly used in the construction industry for much of the 20th century. But such materials are most likely in – or are nearing – a friable state by now, meaning that they can easily be disturbed and go airborne. Professional asbestos removal in Mississauga is essential in preventing such incidents from occurring, and even having prior asbestos testing in Mississauga can mitigate the threat of asbestos and save lives.
Although asbestos-containing materials were designed to be prone to heat, such materials can no longer tolerate a fire. At Canada's Restoration Services, we know that it's better to act now rather than to wait for an already hazardous situation to worsen through a freak accident such as a fire, which can cause severe damage to asbestos-containing materials and exacerbate the risks that they carry.
Fire & Asbestos Containing Materials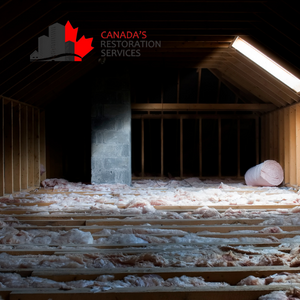 Although initially designed to be prone to heat, it's unlikely that an asbestos-containing material lingering in an old home can still endure the flames of a fire. Friable asbestos-containing materials – such as insulation, ceiling or floor tiles – will spall or crack due to the heat from a fire, releasing toxic fibres into the air. When inhaled, such airborne particles can lead to serious long-term illnesses like malignant mesothelioma cancer.
In the event of a property fire, the smoke of a fire can carry the material's toxicity and spread to nearby residences. But toxic asbestos particles released into the air are not the only thing to be worried about. There is also asbestos debris that might be lying around, including pieces of burnt or unburnt materials. Avoid exposing yourself to such items, which can increase your chances of developing an asbestos-related illness.
Post-Fire Asbestos Clean Up
If you suspect that a fire has damaged an asbestos-containing material on your property, contact a professional in asbestos testing in Mississauga at Canada's Restoration Services to assess the danger that the material presents. If the material was significantly damaged, it poses a severe threat. However, the risk of exposure is low if the material did not sustain too much damage or disturbance. In any event, asbestos removal in Mississauga is required to remove the hazard from your property altogether.
Clean-up after a fire should be handled by professionals, especially if you suspect that asbestos-containing materials were damaged in the blaze. Asbestos exposure is not always immediately evident, and it could take up to 20 years for symptoms to show. That's why it's important to have asbestos removal in Mississauga done sooner rather than later, as unforeseen circumstances can increase the hazards that asbestos presents.
Asbestos Testing and Removal Services
At Canada's Restoration Services, we have a comprehensive approach to asbestos testing in Mississauga: we inspect your property, assess any potential threats, take samples of materials suspected to contain asbestos, and send those samples to a third party lab for verification. If asbestos removal in Mississauga is deemed necessary, we safely following industry best practices.
If you're concerned about a material that potentially contains asbestos and was recently damaged in a fire?