Different Types of Asbestos: Where You Might Find Them
Posted in Asbestos Removal, on October 15, 2021
---
An air of mystery surrounds asbestos. For a short while before the 1980s, their mineral was used ubiquitously in construction and building materials. The hazardous material was quickly understood to be dangerous. With asbestos being banned federally in Canada by 2018, many property owners are unsure whether they need asbestos removal services in Toronto or if the asbestos present is indeed a hazard.
Asbestos testing in Toronto is the most reliable and safe way to identify the risk of asbestos on site of a commercial or residential property. There are several types of asbestos, and while not equal, if any are detected, they all certainly require professional asbestos removal services in Toronto. If you think your home might be hiding asbestos, Canada's Restoration Services will conduct a thorough inspection as well as third-party asbestos testing in Toronto to reveal any potential asbestos.
Here's what you need to know about the different types of asbestos.
Serpentine vs. Amphibole
Asbestos is divided into two main categories: serpentine and amphibole, based on its properties, mainly the differences in the fibres.
Serpentine asbestos, consisting of only chrysotile asbestos, has curly, soft fibres and can be woven and wrapped around pipes due to its high flexibility and strength.
Amphibole asbestos can be broken down into a few subcategories: tremolite, crocidolite, amosite, and actinolite. Unlike serpentine asbestos, amphibole asbestos has short, thin and stiff fibres that are needle-like in appearance and generally aren't as flexible as serpentine. Because amphibole fibres are smaller, they're easier to inhale and have higher rates of causing cancer and long-term illness.
Chrysotile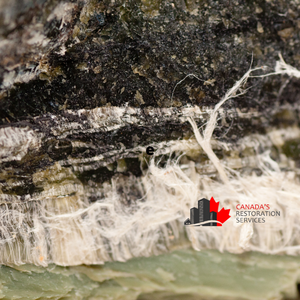 Chrysotile, commonly known as white asbestos, was often used for its heat resistance and durability. You could typically find white asbestos in pipe wrappings, drywall, insulation, and tiles. Nearly 95% of all asbestos used was chrysotile, and while it isn't the most dangerous, it still poses a health risk due to its abundance in building materials in properties. In some cases, controlled use of chrysotile asbestos is permitted where the possibility of becoming airborne is low. However, any amount of asbestos exposure can have severe effects, so to ensure that your home is asbestos-free, contact Canada's Restoration Services for asbestos testing in Toronto.
Amosite
Brown asbestos, scientifically known as amosite, is the most dangerous form of asbestos and has the highest cancer rates linked to it. Second to chrysotile, amosite was frequently used in commercial and residential building materials. It is often found in cement sheets, insulation, roofing, and electrical insulation due to its high heat resistance and fireproof properties. Additionally, it was fantastic for soundproofing and reducing condensation due to its high absorption qualities.
Crocidolite
Crocidolite asbestos, sometimes called blue asbestos, wasn't as popular as its brown and white counterparts, but it was still associated with dire health risks.Crocidolite asbestos wasn't as heat resistant as brown asbestos, so it was mainly used in cement and tiles. Its fibres are long, sharp, and microscopic, so if inhaled, they attach to your lungs and often accumulate unknowingly.
It's important to refrain from trying to identify asbestos on your own, as asbestos removal services in Toronto and the GTA, like Canada's Restoration Services, have the equipment, training, and skillset to inspect and collect samples for asbestos testing safely and efficiently.