Detecting Mold Inside Your Home's Walls
Posted in Mold Removal, on May 21, 2021
---
It's not surprising that drywall can be a common hiding place for mold to grow. It's' actually quite a welcome environment when the conditions are right. It's dark - it's warm - it's a food source. And when there's excessive moisture, mold will thrive.
Mold is tricky, and it can grow beneath the surface of walls without being detected. If your home has suffered some water damage and the water has soaked into the drywall, it's likely that mold will start to grow. Undetected, it will spread out and multiply.
For mold removal in Montreal (and mold Inspection in Montreal), homeowners should be seeking professional help. Mold is simply too dangerous and too hazardous to take on as a DIY project. It requires the expertise of the professionals.
Why Mold Grows Behind Walls?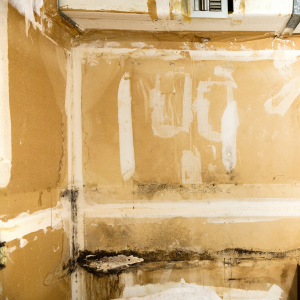 Drywall is a material that's high in cellulose, so it makes for a great feeding ground for mold. It's actually one of the most common places for mold to grow in a home. To be sure, there is no way to completely remove drywall mold – it has to be excised and disposed of.
Inside drywall cavities, the empty space often contains a high level of air moisture. With the moist air and the drywall as a food source, mold can infiltrate and thrive. The worst part is that mold spreads undetected until some of the outward signs and symptoms start to materialize.
Signs Of Mold Growth In Walls
Mold appears in many shades and many colours, each species with its own coloration. Mold growth is often a result of water damage, so water stains and discoloration are a good indicator that mold may be growing. If there's wallpaper, mold can cause the surface to peel or bubble. Most obvious with mold is the odour – a mold infiltration will give off a musty smell, quite similar to a damp forest.
Mold Inspection In Montreal
With mold infiltration, the first priority should always be safety. And the best option is to start with a professional inspection. At Canada's Restoration Services, an in-depth inspection is the first step in the process of remediation. This ensures that the scope and severity of a mold infestation are accurately identified. For testing, we work closely with a 3rd party lab to verify the mold species and confirm if there are potential health risks.
Professional Mold Removal
Because of the health hazards, Canada's Restoration Services undertakes a safe and effective mold removal process. This isn't the right time for a DIY undertaking. Mold removal work is best left to an experienced professional who has the expertise to deal with such materials. Our remediation process is comprehensive, ensuring that all remnants of mold and mold spores are completely removed.
For Mold Removal in Montreal Trust Canada's Restoration Services
Homeowners in Montreal can trust Canada's Restoration Services for complete customer satisfaction. Our technicians are IICRC Certified and equipped to deal with all types of mold. And when urgent service is required, we have a company department that provides around-the-clock service.
To learn more, contact one of our in-house mold specialists today or visit us online to see how we can serve you and the Montreal area.