Control Strategies for Asbestos Removal in the Workplace
Posted in Asbestos Removal, on October 06, 2022
---
While asbestos was initially used for its strength, heat resistance, and accessibility, it is a hazardous and dangerous mineral frequently found in properties. If asbestos becomes airborne and inhaled, it will lead to serious health problems and long-term illnesses. When it comes to asbestos exposure, prevention is the best solution, and if it's identified in a property, asbestos removal in Mississauga should be conducted right away. However, eradicating asbestos is a process, beginning with an inspection and asbestos testing in Mississauga from the certified professionals at Canada's Restoration Services.
Here's a guide on control strategies for asbestos removal in the workplace.
Properties Likely to Contain Asbestos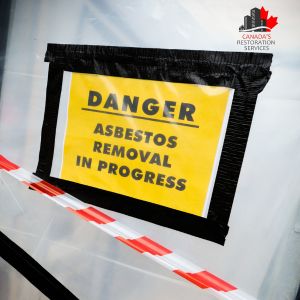 The widespread use of asbestos in several building materials during the 1970s and 1980s, it's likely to be found in any property built from that time. Public and commercial property owners should keep a list of asbestos-containing materials within the building to inform workers, tenants, and contractors that there's a potential risk of exposure. If asbestos is found in the workplace, either during maintenance or renovation, exit the area immediately and contact a certified asbestos abatement company, like Canada's Restoration Services, for asbestos testing and asbestos removal in Mississauga.
Common Asbestos-Containing Materials
Several asbestos-containing materials may be found scattered throughout a property. Common asbestos-containing materials include floor tiles, ceiling tiles, drywall, pipe wrappings, and insulation. Asbestos fibers may become airborne during demolition or renovation, especially if ceiling tiles are broken, plaster is sanded or disturbed, or insulation is removed. If any of these materials are demolished or broken, asbestos exposure may be possible. Contact the professionals at Canada's Restoration for asbestos testing in Mississauga to determine its presence in the property so you're able to implement a safe plan of action going forward.
Responding to the Suspicion of Asbestos
If it's suspected that asbestos is present in the workplace, a control program should be implemented to minimize or prevent the release of asbestos fibres. The control program should address the containment of asbestos, the location, type, and friability of asbestos in the property, and control the release of asbestos fibres. The following steps in the control program should include providing personal protective equipment (PPE) and clothing for employees, an outline of procedures for monitoring the containment of asbestos, and methods required for decontaminating workers. The last course of action is to conduct a professional removal and clean-up of asbestos waste and any material that may have been exposed to the hazardous mineral.
Professional Asbestos Removal Services
If you suspect asbestos is present, or if it's become airborne, evacuate the area, restrict entry, and have safety protocols in place. However, asbestos removal and restoration should never be handled by anyone other than a certified professional. At Canada's Restoration Services, our team of trusted and experienced technicians will conduct comprehensive, third-party lab asbestos testing, advanced removal techniques, and air quality testing to ensure that the harmful mineral is effectively eliminated from your property. Prevent the spread of asbestos and its dangerous side effects with asbestos restoration services from Canada's Restoration Services.