Construction Defects That Lead to Water Damage
Posted in Flood & Water Damage, on April 24, 2022
---
Your home is a shelter. It's primarily designed to keep the natural elements like wind, Earth, and water out, and enable comfort, warmth and safety indoors. While the concept is simple, many intricate construction elements keep water out of your property. When one of these is not up to par or defective, water can breach barriers and infiltrate, resulting in water damage cleanup. Identifying noticeable construction defects can help prevent the need for water damage restoration in Toronto.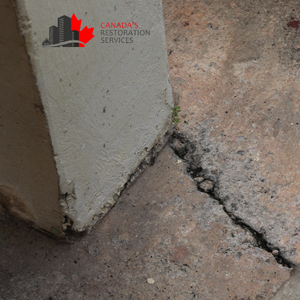 Canada's Restoration Services has experience handling almost every type of water damage cleanup situation imaginable. From flood damage, sewage backup or a water leak, our technicians are well equipped to provide reliable and efficient service. We understand that water damage is often out of your control, especially when it comes as a result of construction defects.
Here are some common construction defects to look out for to prevent water damage from occurring.
Roofing
An improperly installed roof can result in rainwater seeping through and into your attic or home. As water builds up in your attic, it can lead to the development of a mold outbreak, a health hazard that can also damage your attic insulation and rot materials in the space. If your roof isn't correctly sloped, this can also create an excessive pool of water on your roof. This pool of water will eventually drain to the lowest point in your roof and may actually exploit another construction defect with your roof, leading to water intrusion. The same goes for your house's facade, decks and balconies. These elements of your home's design that are not adequately sloped can cause water to be directed towards your home, rather than away from it.
Doors and Windows
If your window or door is closed and water still finds a way into your home, it's an obvious indicator that they are defective or were poorly installed.
While water damage cleanup is a concern due to a faulty window or door, the water intrusion also highlights issues with your home safety. If your home can be easily intruded by water via a window or door, your home's security is also at risk, and it's best to address this as soon as possible.
Faulty Pipes
Pipes that weren't properly installed during your home's construction are a common problem that can ultimately result in water damage restoration in Toronto. The scope of the water damage varies depending on the pipe's condition and how long the leaking has persisted. Faulty pipes that aren't visible can sometimes be reflected in your water bill. If you notice that you have a high water bill despite minimal usage, you may be dealing with a leaking pipe.
Water Damage Restoration in Toronto
If you end up experiencing water damage due to a construction defect with your home, leave the cleanup to Canada's Restoration Services. Water damage should be addressed immediately. If you call Canada's Restoration Services for help with water damage, our team can will respond within 45 minutes of calling. Our approach to cleanup begins with assessing the damage, removing salvageable and non-salvageable items, and restoring the affected area.
Delaying water damage repair can result in secondary damages to your home.
Call Canada's Restoration Services now to see how we can help you with water damage restoration.