Common Asbestos Removal Mistakes to Avoid
Posted in Asbestos Removal, on April 13, 2021
---
While you can save up quite a few bucks by doing DIY home improvement projects, sometimes the risk exceeds the price. Asbestos removal is one of those projects. In Canada, anyone who wants to engage in asbestos removal must follow strict safety regulatory guidelines because the process is often complicated and requires specialized training and equipment. Certified contractors are equipped with tools and knowledge that enable them to perform the abatement safely and efficiently, with minimal risk of exposure. So, if you are thinking about DIY asbestos testing or removal, think twice. With little to no experience with asbestos, the average homeowner is pretty susceptible to mistakes, threatening to jeopardize all residents' health. We'll mention the three most common mistakes and how to avoid them.
Not Identifying Asbestos Containing Materials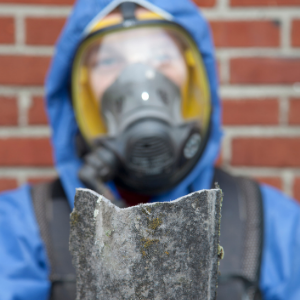 If you live in an older home, asbestos can commonly be found in many materials – house siding, roofing, popcorn ceilings, various tiles and adhesives. However, this doesn't mean asbestos is always present in all those materials, nor that the area is contaminated. Asbestos microfibrils are harmful only once they are airborne, so if the material contains asbestos but isn't damaged in any way, it shouldn't present a health hazard.
To correctly identify asbestos-containing materials, it is necessary to know all suspicious materials' brand names and content. With older homes that have been renovated several times, this can be quite tricky, requiring a lot of knowledge and experience. For this reason, one of the most common mistakes in DIY asbestos removal is not identifying all materials that contain this hazardous material.
Spreading Contamination
The biggest risk of DIY asbestos removal is making the situation worse than it was. Asbestos microfibrils are very tiny and light – they easily become airborne with even the slightest disturbances. If they catch onto clothes or get pulled by air circulation, they can contaminate the entire home. For this reason, the contaminated area needs to be sealed appropriately before beginning to remove the hazardous materials. Wearing safety equipment and disposable overalls during the entire process is also a must.
Improper Asbestos Clean Up
After the asbestos-containing materials are removed, it is necessary to carefully pack them in two strong plastic bags and seal them tightly. This is done to ensure that no microfibrils escape from the bag on their way to the hazardous waste disposal facility. The entire area should be then thoroughly vacuumed using a vacuum with HEPA filtration. Using a standard vacuum is a recipe for disaster, considering its filters cannot collect the tiny microfibrils, and it just releases them back into the surrounding air with vigour.
Asbestos testing is required after the removal to ensure that no asbestos remains in the area. It should always be done by a contractor different from the one that performed the removal. Reach out to trusted inspectors of Canada Restoration Services. The friendly staff of CRS is always ready to provide quality service and give honest estimation and advice. Call CRS today to schedule your asbestos testing.