Cause and Effect: Water Damage Leading to Mold
Posted in Mold Removal, on August 14, 2015
---
If you have encountered water damage and are now restoring your house back to its pre-damaged condition, there is a good chance you should thoroughly inspect the affected surfaces, and the sooner the better (within 24-48 hours after occurrence of water damage). Watch out for the signs that indicate the presence of mold. Since the risk of mold after the incident is very high, be sure to properly take care of the damage.
Here are a few of the most common sources of water damage: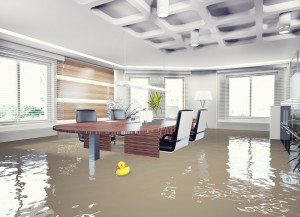 Burst or leaking pipes
Crawl spaces, basements and attics
Air conditioners
Malfunctioning washing machines
Plumbing system failure
Blocked sewers
Water heater failure
Drain system failure
Foundation cracks
Roof leak
Water damage in Toronto has long-term destructive effects on the indoor environment. Excess moisture or flooding can result in rapid deterioration of structures and furnishings, which can lead to mold growth. Actually, any type of water damage can cause a mold problem, and if mold occurs, it reduces the efficiency of the building insulation. The result is that wood becomes rotten, siding buckles and paint peels off walls. Mold also generates unpleasant odours and substantially weakens the structural integrity of the building. In this event, you may incur considerable expenses to remedy the situation. A correlation exists between water damage and mold growth. To start growth, most molds require either moisture presence on a surface or humidity level of 70% to 90%. Therefore, to prevent mold growth in your house, you must avoid excess moisture and water and schedule immediate mold inspections and mold removal in Toronto.
Restoration and Remediation Efforts
To restore the house back to its pre-damage condition, a number of techniques shall be used, including:
Removing standing water and recovering affected items
Measuring moisture and documenting damage
Carrying out non-invasive leak detection
Drying the building out using suitable equipment
Carrying out conservation of machinery, electrical appliances, equipment and furniture,
Treating affected surfaces with disinfectant to destroy microorganisms and mold
Carrying out odour neutralization
Expert Water Damage & Mold Removal Services Toronto
Water damage restoration process usually involves using thermal imaging cameras, moisture meters and other related equipment. Again, since mold growth is usually promoted by humid conditions, presence of wet organic materials and poor air circulation, the problem shall be tackled when remedying water damage. Timespan within which mold growth can be prevented is very short. It is measured in hours, not days or weeks. Building materials and furnishings shall be dried as soon as possible to prevent the initiation of mold growth. Mold growth initiates within hours. To prevent mold from developing, you need a team of specialists who respond quickly and who are able to deal with the situation professionally. Do not wait until the problem reaches a crisis point. Avoid mold issues by taking care of water damage in your house. It is easier and less costly to prevent mold problems than to remediate them. Contact us online or 1-888-551-0514 FREE and speak to a live Canada's Restoration Services Representative. We are available 24 hours a day, 7 days a week.