Can You DIY Your Own Mold Removal
Posted in Mold Removal, on July 31, 2023
---
Mold growth is a prevalent obstacle that homeowners run into. Mold can cause harm to your and others' health and the strength of the house. This is why mold removal in Toronto should be performed promptly to eliminate the further risk that it already is. DIY-ing home repairs is a great way to save money; however, dangerous procedures such as black mold removal are recommended to be done by a professional. Canada's Restoration Services is equipped with licensed professionals to get every mold particle out of your home. Available for required services in and around the GTA.
More than cleaning mold off surfaces is required to rid your home of mold infestation; learn more about the proper mold removal methods below.
Dangers of DIY Mold Removal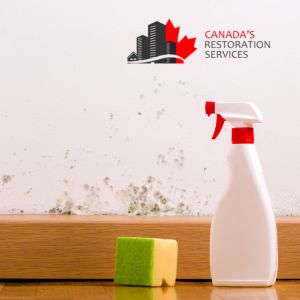 Wrong equipment: Standard machinery and equipment at home cannot properly remove mold. It can destroy the structural integrity of the house, causing further damage. Professionals have equipment that cannot be bought locally that removes the mold efficiently.
Not removing all mold: Without the proper removal techniques and licensing, you cannot remove the mold entirely. Our professionals are versed in mold removal in Toronto with extensive experience.
Health Hazard: Incorrectly removing mold can result in the spread of mold spores throughout the whole house. Doing so creates a risk of inhaling mold spores without even being aware they are present.
Lack of protective wear: Proper personal protective Equipment is crucial when performing black mold removal, as inhaling the particles can cause serious health issues, experiencing allergy-like symptoms.
Common DIY Methods
The following are some standard methods of removing mold by yourself. Though we do not recommend this, these can show temporary solutions:
Commercial Mold Cleaner: These can be found at your local hardware store or market. Follow the manufacturer's instructions on the label for optimal results.
Vinegar: Mixing equal parts of vinegar and water in a spray bottle, spray the affected surface and let it sit for a few hours. Then go ahead and scrub the treated area. The mold should wipe right off.
Baking Soda: Create a paste from water and baking soda and apply this to the moldy areas. Let it sit for a few hours, and then wipe it off. This will get rid of the black mold stain on the wall.
These methods are best for when you need a temporary fix, like guests coming over and you are seeking a clean house. However, at Canada's Restoration Services, we strongly recommend getting your mold treated by a professional, for long-term results.
Better Options With Canada's Restoration Services
Canada's Restoration Services offer top-notch expertise to remove all mold from your home. Certified in IICRC and WSIB, we are a trusted and leading restoration company in Canada. We work to exceed our client's expectations and to make your home a safe and healthy living space. Leave the heavy labour to us as we have to correct equipment and PPE to complete the removal in a timely and safe manner.