Can Flooding Be A Catalyst for Asbestos in Vancouver?
Posted in Asbestos Removal, on December 13, 2021
---
Just like the rest of Canada, asbestos removal in Vancouver has been an ongoing process in residential and commercial buildings since the health hazards associated with inhaling the mineral became apparent across the country in the latter half of the 20th century.
Prior to its nationwide ban in 2018, asbestos fibres were commonly used in the construction of residential and commercial properties, thanks to its resistance to heat and effectiveness as an insulator. But despite being discontinued for use in construction and other goods for more than 30 years, asbestos testing in Vancouver continues to show that the mineral still lingers today, primarily in older commercial and residential buildings built between 1950 and 1980.
Asbestos exposure and the health risks that come with it can be heightened when natural disasters strike, such as flooding. When a building's integrity is damaged by floodwaters, asbestos fibres hidden in flooring or ceilings may be disturbed and ultimately exposed, uncovering the hidden threat.
How Does Flooding Cause Asbestos Exposure?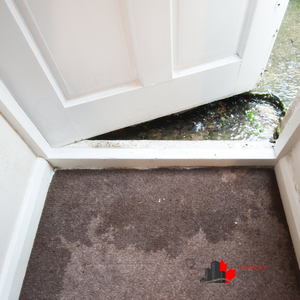 Floods or storms often result in the breakdown of a building's cement or other bonding material, ultimately disturbing and releasing asbestos fibres into the air. Asbestos testing in Vancouver has identified which building materials have high percentages of friable fibres, including floor and ceiling tiles, wall panels, heating and cooling systems, and more.
When such fibres become airborne, it increases the chances of inhalation. In some cases, asbestos fibres can be waterproof. When a flood strikes, the fibres can float and further the risk of being inhaled. Breathing in the fibres can lead to the mineral being trapped in the lungs for an extended period of time, potentially leading to a number of severe health conditions, such as ​​lung cancer and malignant mesothelioma.
In the event of a flood, contacting experts in asbestos removal in Vancouver is crucial, such as Canada's Restoration Services. However, There are several precautions one can take during cleanup, including:
Wearing proper respirators for protection, such as a NIOSH-certified N95 respirator.
Wearing disposable hats, gloves or other protective equipment.
Organizing asbestos-containing materials into waste bags that are approved for asbestos disposal.
Disposing of any clothing laced with asbestos. Do not put such clothing in the wash, as they may contaminate other clothing.
Renovations After A Flood
In following some of the safety tips listed above, homeowners should take many precautionary restoration and renovation steps following a flood.
Avoid breaking or damaging any asbestos-containing material, as this increases the likelihood of releasing the fibres into the air.
Flooring will likely need to be removed. Tiles containing asbestos should be removed only by a professional, such as one from Canada's Restoration Services.
Canada's Restoration Services or any other licensed asbestos abatement contractor should be commissioned when part of your home is destroyed by flooding to remove asbestos-containing material found within the debris.
Work With An Expert for Asbestos Removal in Vancouver
Always choose reputable asbestos abatement contractors for asbestos removal in Vancouver following a flood. Repairing often comes in two forms: sealing or covering the asbestos. To seal an asbestos-containing material is to treat it with an adhesive that can trap the fibres for a short period of time in its original material or coats to prevent it from being released. Covering an asbestos-containing material means enclosing it within an approved covering to prevent the fibres from being released.
Canada's Restoration Services is a trusted expert and professional in asbestos testing and removal in Vancouver. In any event, whether it be the aftermath of a flood or a regular asbestos inspection, the company will take and provide samples to a third-party lab to confirm the presence of such fibres. The removal process includes setting up full containment and equipment to ensure that belongings are safe from any cross-contamination.
Contact us today to talk to an asbestos expert at Canada's Restoration Services right away!