Managing Building Materials With High Asbestos Concentration
Posted in Asbestos Removal, on January 17, 2022
---
Asbestos testing in Toronto is used to identify the concentration of asbestos in building materials. Depending on the percentage and the type of asbestos, asbestos removal services in Toronto will continue with the abatement process.
Asbestos was used in a wide range of building materials for its affordability, resistance to heat, fire protection, and effectiveness as an insulator. As a result, most properties, commercial or residential, constructed between the 1950s and 1980s contain asbestos in one for the other.
Despite ultimately being banned as people became more aware of the dangers of inhaling the mineral, the mineral can still be found in occupied properties today. The passage of time, property damage, and renovations are just some of the factors that can increase the risk of disturbing asbestos and sending fibres airborne. To avoid accidental exposure, contact Canada's Restoration Services for asbestos removal services in Toronto which includes asbestos testing in Toronto.
Testing For Asbestos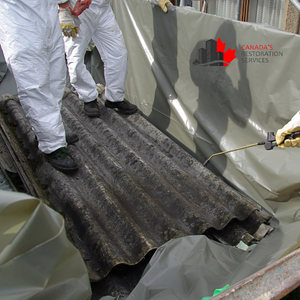 When it comes to testing for asbestos, our asbestos removal services in Toronto include inspecting your property and taking samples of any materials that may potentially contain asbestos. They're then sent to a third-party lab for testing, where the type of asbestos is identified and its danger level assessed.
Any material that contains an asbestos concentration level of more than 1% should be removed by experts at Canada's Restoration Services. If material contains an asbestos concentration level of less than 1%, it is still recommended to consult with our experts in asbestos removal services in Toronto. However, if a more precise point count analysis is performed and shows similar results, the material can be discarded as construction debris, as it is not considered hazardous
Common Building Materials & Asbestos Tesing in Toronto
There were three main common types of asbestos: amosite (brown asbestos), chrysotile (white asbestos) and crocidolite (blue asbestos). Asbestos has the potential to be used in virtually all construction materials. By understanding where you might find asbestos, the more likely you will be able to avoid exposure. The only way to be certain that you are not at risk is with asbestos testing in Toronto.
Chrysotile, perhaps the most commonly used form of asbestos, can be found in the ceilings, walls, roofs and floors of older homes and businesses. It was also used in insulation for pipes and attics.
Amosite was frequently used in pipe insulation and cement sheets. Thermal insulation products, insulating boards and ceiling tiles commonly consisted of this form of asbestos.
Crocidolite was mainly used for insulating steam engines. It was occasionally used in various spray-on coatings, plastics, pipe insulation and cement products.
Asbestos Removal Services in Toronto
In any event, whether it's testing for asbestos or removing the mineral, you always consult with a professional at Canada's Restoration Services before starting renovations, remodels, or maintenance. Attempting to address the issue on your own can pose serious hazards to the health and safety of you and your family.
Contact us now to talk to an expert in asbestos removal at Canada's Restoration Services today!