Building Materials Prone to Water Damage & Mold
Posted in Mold Removal, on June 06, 2023
---
Maintaining a healthy indoor environment and supporting the longevity of your property are directly related to the condition of your building materials. To preserve your building materials, understanding the risks associated with water damage cleanup and the impact of mold growth is imperative. With support from leading professionals at Canada's Restoration Services, you can streamline water damage restoration and mold removal in Toronto to minimize structural problems and mitigate adverse health effects to occupants.
Read on to learn more about the building materials most susceptible to water or mold damage and how to restore them with Canada's Restoration Services.
Drywall Water Damage & Mold Removal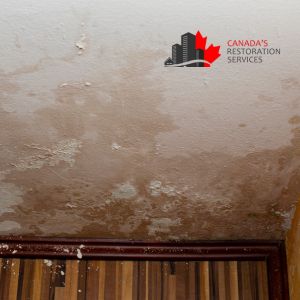 Used in the creation of walls and ceilings, drywall is made of gypsum sandwiched between two paperboards, both of which are organic materials. Because drywall is often used in proximity to pipes in the ceilings and behind the walls, pipe leaks, backups, and burst pipes can leave drywall soaked and water damaged. Due to the porous nature of drywall, water damage can occur over time due to high levels of moisture in the air. The extended humidity from leaks or the air draws mold spores out of the air, where it colonizes and replicates into mold infestations. You can spot mold or water damage on your drywall by looking out for dark-coloured stains, earthy odours, and changes in your indoor air quality. If you notice any signs of drywall mold, call Canada's Restoration Services for urgent mold removal services in Toronto and the surrounding areas.
Wood Water Damage & Mold Removal
Wood is a versatile and natural building material vital to residential and commercial construction, but it is also highly vulnerable to water damage and mold. Excessive moisture can cause wood to swell, warp, or rot. This not only compromises the structural integrity of the building but also creates a favourable environment for mold infestations. Whether it's the framing, flooring, or furniture, it is crucial to address water damage promptly and ensure thorough drying to prevent mold infestation. By scheduling water damage cleanup immediately after discovering water damage around wood in your property, you can mitigate the onset of mold and protect your other building materials from becoming infested.
Insulation Water Damage & Mold Removal
Insulation is critical to your property's energy efficiency, indoor comfort, and air quality. Located all around your home or workplace, from crawlspaces and basements to walls and attics, organic or loose-fill insulation materials like fibreglass or cellulose are easily affected by water intrusion, leaks, flooding, or excessive moisture. As insulation becomes more exposed to moisture and mold starts to grow, the more its performance becomes compromised. Your insulation may be affected by mold if you notice changes in your indoor climate regulation, an increase in your utility bills, or changes in your home air quality. If you notice any of these signs, don't wait. Contact Canada's Restoration Services for water damage and mold removal in Toronto. Investing in mold removal costs can save on expensive utility bills for years of comfort and better indoor environments.
To learn more about preserving your property's building materials, contact the IICRC-certified Canada's Restoration Services.