Best Mold Removal Approach for Spring Cleaning
Posted in Mold Removal, on March 01, 2022
---
Spring is almost here, and so is annual spring cleaning. When you're decluttering and clearing out your home from this past year, you might discover some things you didn't know you had and some problems you didn't know you had, like mold. If you encounter mold when going through your belongings, mold removal in Toronto can eliminate it quickly. However, mold testing in Toronto before you get going on spring cleaning is the most effective way to stay on top of the mold and avoid any unwanted surprises.
For trusted mold removal services in Toronto, ranging from inspections and detection to testing and removal, contact the team at Canada's Restoration Services.
Here's how you can stay on top of mold removal during spring cleaning in Toronto.
How Does Mold Infest Homes?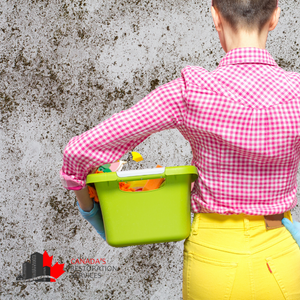 Mold spores are a natural part of the ecosystem and exist naturally outdoors. As a result, the average person likely interacts with mold in some form every day. Because mold spores are not the same as an outbreak, it isn't until mold infiltrates our indoor environment that mold removal in Toronto becomes necessary.
With the right conditions, mold escalates into a serious problem that requires the attention of skilled technicians. Excess humidity, low light, poor ventilation, and organic materials all contribute to and escalate the growth of mold, enabling even the most seemingly minor infestation to evolve into colonies and take over the surfaces and possessions in your home.
Where You'll Likely Find Mold
When you're cleaning out your house this spring, there are a few places that might be susceptible to mold growth. The most common rooms for discovery are attics, basements, bathrooms, crowded and stuffy storage rooms. Additionally, any property area that has recently experienced water damage should undergo mold testing in Toronto. Leaks, flooding, and any other type of water damage give mold spores the small water supply they require to flourish, increasing the likelihood property owners will need mold removal in Toronto.
Before diving into cleaning out any of these areas, protect your health with mold detection and removal services. Be safe proactive, and contact Canada'sCanada's Restoration Services for fast and comprehensive mold testing in Toronto.
DIY Mold Removal Toronto
It's never recommended to attempt mold removal in Toronto independently; however, many property owners take a stab at it anyway. Common do-it-yourself tactics include using vinegar or a bleach solution. Without professional mold testing and inspections, it's nearly impossible to determine whether an outbreak has spread and which rooms or areas it has occupied. During spring cleaning, any signs of mold, be it musty odours or dark coloured staining, should be handed over to a certified technician.
Act Quickly; Contact a Professional
Mold spreads quickly and easily throughout homes, especially if the conditions are optimal for growth. If you see — or smell — mold, contact our team of certified professionals for a mold inspection. We'llWe'll make sure to identify all sources of mold growth and implement a comprehensive plan of action for quick and effective mold removal.
Planning your spring cleaning this year?