Benefits of Mold Testing Services Before Selling Your Home
Posted in Mold Removal, on March 21, 2022
---
Putting your home up for sale is a big deal. To get the best value and make the best impression, you'll want to present an immaculate property. Unfortunately, when homeowners decide to sell a home, many don't realize that their property is contaminated with mold until much later in the selling process. Often it isn't until prospective buyers notice infestations with the help of a home inspection that mold is even uncovered. Avoid any unwanted surprises of mold infestations with mold testing services from a trusted home restoration company.
Here's why you should reach out to mold testing services from Canada's Restoration Services before putting your property on the market.
Get the Best Sale Price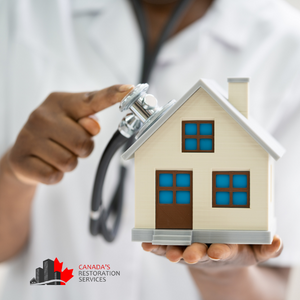 Mold testing services from an expert home restoration company will ensure that an unidentified outbreak of mold won't interfere with your ability to sell your home or maximize your offer. Our certified professionals at Canada's Restoration Services ensure that all sources of mold growth are identified, and if mold is present, it will be effectively eliminated.
When buyers discover mold, either from a viewing or a home inspection, it is challenging to get the price you want. Selling a home with an undiagnosed mold problem is a red flag for buyers; it shows that there may be other issues around the home that may end up costing a significant amount of money to repair and restore. Because mold is primarily caused due to excess moisture, that could mean there has been a problem with leaking pipes or water damage that hasn't been restored adequately. So in addition to getting the help of mold testing services, find a home restoration company like Canada's Restoration Services that also offers water damage restoration to prevent mold in the near future.
If mold is found on the surface, there's a high possibility it's within the home's structure. After all, mold spores are rooted in porous surfaces, like wood, drywall, and carpeting, and are incredibly difficult to remove without professional mold remediation.
Ensure The Property Goes Through Escrow
It's a huge relief when buyers are interested and put an offer in on your home. While the selling process after receiving an offer should be seamless, there is always the small risk of the home inspector finding an issue, like a mold outbreak. If a home inspector discovers a mold on site, the buyers may back out of the entire process, leaving you back to square one. Mold infestations are often enough to drive away buyers, even if you agree to conduct mold removal services with a professional and certified home restoration company. On the other hand, when you conduct mold testing and removal from Canada's Restoration Services we will provide you with a transferable certification of mold removal, which can actually help sales.
Don't Get Blindsided
Mold testing and inspections guarantee that you won't be blindsided by any potential mold infestations, so you can carry on with selling your home worry-free. Before putting your home on the market, assess whether your property's condition is conducive to mold. Look out for excess moisture, low ventilation, and minimal natural light. Schedule a careful mold inspection of your home targeting bathrooms, storage closets, the attic, basement, and even under your carpets where outbreaks are most commonly uncovered.
Be Proactive with Mold Removal Services
Selling your home is stressful as it is, even without the discovery of unknown mold infestations. Be proactive when selling your home, and hire a professional home restoration company to take care of any potential issues that may arise, like mold growth. By facing your mold infestation head-on, you won't need to worry about it later in the selling process, and you will have a seamless, stress-free sale.