Avoid These 3 Sump Pump Mistakes
Posted in Flood & Water Damage, on January 20, 2022
---
If you live in an area subject to high water levels, flooding, and sewage backup, a sump pump is a convenient addition to your home. Sump pumps help prevent flooding and the need for emergency water damage restoration. Essentially, sump pumps detect water and automatically funnel out excess water indoors through a discharge line that flows outside.
Most of the time sump pumps are effective solutions that mitigate flooding and other problems that require water damage repair, but in cases where maintenance is overlooked or installation is improper, sump pumps can fail. Even if you have a sump pump installed on your property, keep any eye out, and call Canada's Restoration Services for water damage restoration and repair.
Where is a Sump Pump Installed?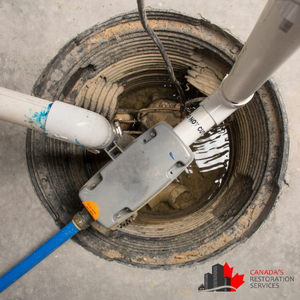 A sump pump is an inexpensive tool that will go a long way in preventing water damage from happening in your home. It's installed in the lowest part of your home — the basement or crawlspace — and its purpose is to keep your property dry and prevent any kind of flooding. It pumps water away from the foundation and keeps your basement dry and your home safe from any water problems that may arise.
Sump Pump Problems
To prevent extreme water damage, pay attention to your sump pump and look out for these 3 most common sump pump mistakes.
Installation
Professional installation of your sump pump is the best way to avoid panic and emergency water damage restoration costs. To ensure that your sump pump works sufficiently, contact a certified professional and avoid the do-it-yourself approach. If your sump pump isn't installed properly, it may cause a backflow of water that'll make the pump impeller spin backwards, dislodging the motor. In this instance, you'll hear the motor, but you won't see the water being pumped out of the basement.
No Power
There are two ways a sump pump may lose power: there's no backup power source, or it has been unplugged. Power cuts are often the most common cause of a sump pump failure; without a generator, your sump pump won't be able to work. This can be a serious problem during extreme weather such as heavy rainstorms and intense snowfalls which may also require water damage restoration. If your sump pump is unplugged for any reason,it will not operate without a backup power source. Unless otherwise directed by a professional, keep it plugged in at all times to prevent any mishaps.
Maintenance
If debris is stuck in your sump pump, it may ruin the motor, and as a result, your sump pump won't be as effective. When you install your sump pump, use a filter or cover it with a lid to prevent debris from entering and to ensure your sump pump works efficiently. Ideally, you should check on your sump pump and conduct maintenance at least once a year to avoid clogs and ensure that your sump pump will run smoothly in an emergency. If your sump pump fails, Canada's Restoration Services will respond in 45 minutes or less for emergency water damage repair.
Contact a Professional
In order to keep your home safe from water damage, make sure your sump pump is professionally maintained. In the instance that your sump pump fails during a rainstorm and you face water damage, contact our team of certified professionals, and we'll arrive as quickly as possible.