Asphalt vs Concrete Pavement and Asbestos
Posted in Asbestos Removal, on January 21, 2022
---
Despite increased efforts for asbestos removal in Toronto over the years, the building material is still frequently uncovered on properties to this day, as results from regular asbestos testing in Toronto continues to show. Pavements like cement and asphalt were often mixed with asbestos fibres to reinforce buildings and make them stronger.
But as the dangers associated with inhaling the mineral became more apparent, the mineral was banned in Canada in the early 1990s and its use in the construction industry was phased out. Still, the asbestos fibres continue to linger in properties, primarily in those built before 1980.
Although asbestos fibres may be hidden in your property's cement walls, they still pose a significant threat to your health. At Canada's Restoration Services, our experts in asbestos removal in Toronto follow a careful asbestos abatement procedure that avoids the risk of exposing the mineral and any cross contamination on your property.
Why Asbestos Was Used In Asphalt and Cement
There are a number of reasons why asbestos fibres were mixed with asphalt and cement.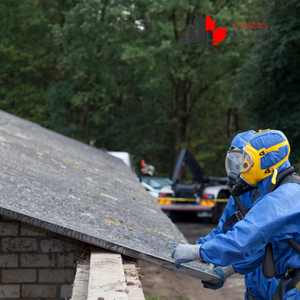 The mineral was commonly mixed with asphalt because of asbestos's fibro composition, which could not be easily destroyed or damaged. Its resistance to heat and water were also significant reasons why the two were mixed. In addition to creating roads, the mixture was also used in the development of roofing and siding shingles, roll roofing and flashing.
The same goes for why the mineral was mixed with cement; not only was it cheap in the market, but its resistance to fire made for efficient insulation. Asbestos mixed with cement included products such as cement roofing and flooring, foundation and building support, fire control bricks and more. There were two forms of asbestos commonly mixed with cement: chrysotile asbestos (or "white asbestos") and amphibole asbestos. The types of asbestos didn't pose significant risks to health and safety, so long as they remained stable, set and undisturbed.
But renovations on your property or the passage of time can disturb asbestos fibres hidden in cement or asphalt products and send them airborne, which increases the risk of exposure.
How To Know If Asbestos Is Present On Your Property
If you're the owner of a home or commercial building that was built before 1980, it's likely that asbestos is present on your property in one form or another. Even if you're not aware, asbestos testing in Toronto continues to identify asbestos-containing asphalt or cement materials hidden in a property's roofing or ceiling.
It's important that you consult with professionals and experts in asbestos removal in Toronto at Canada's Restoration Services if you are concerned that your property is contaminated with asbestos. You are jeopardising the health and safety of you and other occupants if you attempt to address the issue by yourself, as this may disturb the fibres and send them airborne.
Removing Asbestos From Your Property
At Canada's Restoration Services, our comprehensive approach to asbestos abatement includes taking samples of any potential asbestos-containing materials in your home and sending them to a third-party lab for verification, followed by comprehensive asbestos removal and cleanup.