Asbestos Tips for Buying an Older Home in Toronto
Posted in Asbestos Removal, on July 22, 2021
---
Real estate in the Greater Toronto Area is booming, and so are home renovations and remodels from homebuyers and landlords alike. Buying a home is exciting, but it can also be nerve-wracking. The suspicions of unknown hazards, like asbestos, lingering in the walls can bring that excitement to a grinding halt, replaced with concern and confusion. When renovating an older home in the GTA, it's important to consider whether you will need asbestos removal in Mississauga and Toronto. Canada Restoration Services performs advanced and comprehensive asbestos removal services in Toronto, so you don't have to worry. Our team eliminates all asbestos, leaving you to start your home projects safely.
If you suspect asbestos could be in your new home, make sure to get a professional asbestos inspection and testing to be certain before you begin construction on your home.
Asbestos Inspection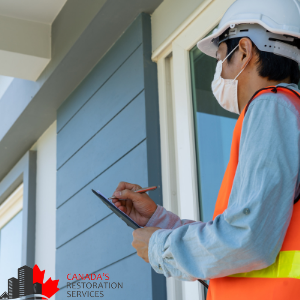 Before you even begin moving into your new home, think about when your home was built. If it was built earlier than 1990, there's a high probability that asbestos is present in the building materials. It's usually found beneath the surfaces, like in wall linings, pipes, and floor tiles. When it comes to your safety, the wisest decision you can make is to get an asbestos inspection as soon as possible. It's best to get one before starting any projects or renovations, decreasing any asbestos exposure.
A home inspector won't look for asbestos, so it's your responsibility to contact a professional service. Canada Restoration Services provides thorough inspections, as well as asbestos removal in Mississauga and Toronto.
Asbestos Testing
Believe it or not, there are different types of asbestos, all of which vary in health risks, colour, and use. To the average person this can make assessing the level of danger very difficult. By using an asbestos testing service, you'll be able to accurately identify which type of asbestos is in your home and how hazardous it is to your health. There are five types of asbestos -- chrysotile being the most common in homes. Chrysotile asbestos has the most flexibility and heat resistance, making it useful for a wide variety of products.
Make Sure You're Comfortable
Don't move in until you're comfortable with your new home. If you're unsure about asbestos in your home, stay safe and contact our team for asbestos removal services in Toronto. At Canada Restoration Services, we put your health and safety first, guaranteeing professional asbestos abatement.
It never hurts to get an air purifier. A HEPA filter can remove 99.9% of dust, pollen, mold, and yes, even some asbestos particles. If you get a HEPA filter, consult our 24/7 customer service team for advice on how to effectively manage it.
Asbestos Removal in Mississauga and Toronto
Don't try to get rid of asbestos on your own. Asbestos particles are microscopic, and they quickly become airborne. If you attempt to DIY asbestos removal, you risk inhaling asbestos fibres. Asbestos removal should always be performed by a professional service to effectively eliminate any material traces and health risks.
When it comes down to buying an older home in Toronto, we want you to be excited, but also want you to be safe. Make sure you're educated about asbestos in your home, and always contact a professional. Leave the worry to us, and contact Canada Restoration Services for IICRC certified and experienced asbestos abatement.
Call CRS to book an asbestos inspection for your new home right away!