Asbestos Safety & Popcorn Ceiling Removal
Posted in Asbestos Removal, on September 12, 2023
---
In your home, secrets might be lurking above your head in the form of popcorn ceilings. These distinctive ceiling textures, popular from the 1950s to the 1980s, can sometimes conceal a hidden danger: asbestos. When your home has asbestos-containing building materials in it, asbestos removal services in Toronto are imperative before beginning any work in the affected areas. If you suspect that there might be asbestos in your popcorn or stucco ceiling contact Canada's Restoration Services. Our team of experienced and trained professionals offer affordable asbestos removal costs and comprehensive services, so you can remove all traces of the mineral from your home for safer living.
The Age of Your Home & Asbestos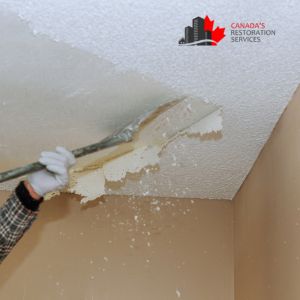 The age of your home is a significant clue. Popcorn ceilings were in vogue during the mid-20th century, so if your house was constructed in that era, there's a higher likelihood of asbestos presence. Moreover, the texture itself, which gives these ceilings their nickname, was often achieved by mixing asbestos fibers into the ceiling material. As a result, the texture itself may contain asbestos fibers, making it a potential source of asbestos exposure.
Asbestos Ceiling Colours
Additionally, the color of your popcorn ceiling can be indicative. Asbestos-infused popcorn ceilings often feature an off-white or grayish hue. However, it's crucial to note that these ceilings might have been painted over during renovations, making it challenging to confirm the material underneath. A more direct method of inspection involves carefully removing a small section of the popcorn texture to inspect the layer beneath. However, if you choose to take this route, you should proceed with caution and adhere to safety guidelines.
Preparing for Renovations with Asbestos Removal
As you consider home renovations or contemplate scraping off your popcorn ceilings to modernize your space, it's wise to factor in asbestos testing to ensure the safety of your household. This becomes especially crucial during renovation projects that involve disturbing or removing popcorn ceilings. The act of scraping off popcorn ceilings, a common practice to achieve a sleeker appearance, can also release asbestos fibers into the air. Hence, conducting asbestos testing is a prudent precautionary measure.
Risks of Asbestos Disruption
Furthermore, it's essential to be aware of the circumstances that can trigger asbestos exposure. Asbestos fibers pose a health risk when they are disturbed. This disruption can occur during various home improvement activities, such as drilling, cutting, or removing asbestos-containing materials. These actions release microscopic asbestos fibers into the air, making them easily inhalable and thus potentially hazardous.
In addition to physical disturbance, the natural deterioration of asbestos-containing materials over time can also release fibers into the environment. This process can occur without any direct human interference, making older homes with popcorn ceilings an area of particular concern. As these materials age and break down, the asbestos fibers they contain may become airborne, posing a risk to occupants. The state of the mineral may affect asbestos removal cost, so to stay safe and minimize costs contact Canada's Restoration Services as soon as you suspect that there may be asbestos lingering around your property.
Guide to Safe Asbestos Abatement
When it comes to the safe removal of asbestos-containing materials, it's imperative to acknowledge that it's not a do-it-yourself project. Engaging an experienced professional restoration company like Canada's Restoration Services is essential. Our team of experts undergo extensive training in the safe handling and removal of asbestos, following strict protocols to minimize exposure risks and ensure a safe removal process. Our teams come equipped with the necessary protective gear, including respirators and suits, to shield them from asbestos fibers during removal. At Canada's Restoration Services we also employ specialized equipment to contain asbestos fibers and ensure proper disposal in accordance with regulations. By hiring professionals, you not only safeguard your family but also minimize the risk of asbestos exposure for any workers involved in the renovation process.
Get your property in safe condition with expert asbestos inspection and removal services in Toronto and throughout Canada. Trusted the trained and experienced asbestos restoration professionals at Canada's Restoration Services.