What Asbestos Removal Services You Should Be Paying For?
Posted in Asbestos Removal, on February 04, 2022
---
If you have concerns that asbestos may be present on your property, the last thing you should do is address the issue by yourself. Doing so not only poses a significant risk to your health but also jeopardizes the safety of others around you as well. In most cases, the mineral is easily disturbed and can go airborne in a flash, increasing the chances of inhaling damaging fibres that can lead to long-term health conditions such as malignant mesothelioma cancer.
So, if you fear that the mineral is lingering in your home, we recommend that you contact one of our professionals in asbestos removal services in Toronto at Canada's Restoration Services. Once we confirm that asbestos is present on your property through our careful asbestos testing in Toronto procedure, we move forward with our comprehensive and multi-step asbestos removal process. We take careful precautionary measures to not only ensure your safety, but to guarantee a return to a comfortable living and work environment.
Asbestos Inspection And Testing Toronto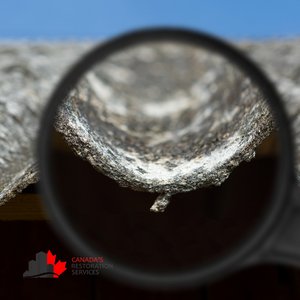 Our asbestos removal services in Toronto begins with an inspection of your property to determine where the mineral is and how much of a threat it poses. If you're the owner of an old residential or commercial building, asbestos can be found in virtually all materials that make up your property – insulation, pipes, flooring, plaster wall ceilings, ceiling and floor tiles, and more.
In terms of what our asbestos testing in Toronto service actually looks like, it involves one of our asbestos experts at Canada's Restoration Services taking a sample of a material suspected to contain asbestos and providing that sample to a third-party lab for testing. It typically takes up to 24 to 48 hours to receive the results of a completed analysis. A detailed report will confirm if asbestos is present or not, as well as what type of mineral is present and its concentration percentage. This report will allow us to outline the scope of our work and gauge how much caution we should be taking during the abatement process, as some types of asbestos are more dangerous than others.
A key factor to consider in the abatement process is the friability of the asbestos-containing material. While asbestos concentration levels may vary across materials, friable materials that can easily break down and send hazardous fibres airborne are likely to have a higher concentration of asbestos than others. Typical friable asbestos-containing materials include cement sheets, pipe insulations, cement sheets, ceiling tiles, spray-on coatings and cement products.
Amosite (brown asbestos) and crocidolite (blue asbestos) were the two most commercially valuable forms of amphibole asbestos, and are the most dangerous types of asbestos as well. Amosite and crocidolite are typically found in the friable materials mentioned above, and pose significant health hazards as they can be easily inhaled when disturbed.
But the most common type of asbestos used in construction was chrysotile, also known as white asbestos. Chrysotile is a member of the serpentine asbestos family and was typically used in the construction of ceilings, walls, floors and roofs. However, minimal exposure to amphibole asbestos is far more damaging than being exposed to serpentine asbestos.
Asbestos Removal Services Toronto
Once the type of asbestos is identified and its threat level determined, our team of professionals at Canada's Restoration Services quickly and carefully move towards a full-scale removal process. This procedure involves setting up full containment and equipment gear to prevent any risk of cross-contamination.
Contact us now to get in touch with an expert in asbestos testing and removal at Canada's Restoration Services today!