Could Asbestos Be Hiding In Your Floor Tiles?
Posted in Asbestos Removal, on May 27, 2021
---
Despite being considered widely banned now, asbestos was once used commonly in many applications, especially building materials. Many homes throughout the GTA still contain asbestos. If built between 1920 and 1980, asbestos could even be found in your floor tiles. If you think that your floor tiles, it's a good idea to have the materials tested and professionally removed to ensure that there is no danger to your or anyone else living in that home.
The professionals at Canada's Restoration Services provide both asbestos testing in Toronto and asbestos removal in Toronto. This is particularly relevant for homes built more than 60 years ago and probably had asbestos floor tiles installed. Indeed, some sheet flooring also contained asbestos materials.
Where is asbestos found in flooring?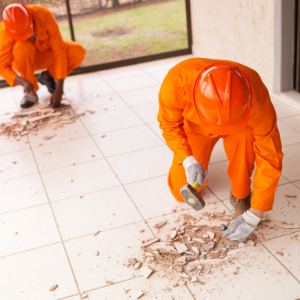 Asbestos has no discernable smell, so identifying asbestos content must rely on other physical characteristics. Asbestos-containing floor tiles were originally produced in three specific sizes: 9" x 9"; 12" x 12"; and 18" x 18". These were often manufactured in dark colours but were also available in various shades and patterns.
Asbestos materials that are left undisturbed pose little or no health hazards. However, it may be risky to fiddle around with the material to identify its content, so if you have reason to believe asbestos is in your tiles, then don't try to remove it. That's why professional testing is the best way to identify asbestos content. For asbestos testing in Toronto, it's best to work with a professional to ensure a safe outcome.
Choosing to work with a professional
There's no question that only a professional should be handling asbestos material. This is not the right time for a DIY project because the work requires specific expertise. For inspection, testing, and removal, property owners throughout the GTA can rely on Canada's Restoration Services for complete service from end to end.
While asbestos is not always dangerous, there is a chance that loose material could present a health hazard. When working with a professional, homeowners are assured of safety precautions that protect both workers and residents from hazardous asbestos fibers. This is not the right tie for taking shortcuts or cutting corners.
Comprehensive testing and removal
When asbestos material requires testing, Canada's Restoration Services employs a 3rd party lab for verification. This is an essential step before any removal work. Once asbestos removal work has begun, and once the remediation work is complete, CRS provides a certificate to the property owner to validate the remediation (this certificate is transferable).
In addition to dealing with floor tiles and sheet flooring, Canada's Restoration Services assesses other sources of residual asbestos throughout. This would include insulation, ductwork, plumbing, and even HVAC equipment. Here again, when things are left undisturbed, asbestos-laden materials can remain intact for many years without a problem. However if uncovered, it's best to call a professional for asbestos removal in Toronto to be safe.
For Asbestos Removal in Toronto Choose Canada's Restoration Services
At Canada's Restoration Services, our IICRC certified technicians specialize in every aspect of asbestos remediation. We provide our customers with a FREE property assessment to determine the extent of removal work and the associated costs.
When urgent service is required, we can provide around-the-clock service. To learn more, call one of our asbestos professionals or contact our team online.