Are Your Appliances the Reason You Need Water Damage Repair?
Posted in Flood & Water Damage, on February 11, 2022
---
Appliances in our home are necessary for our everyday lives to go smoothly; however, most of those essential appliances need water to run effectively. Unfortunately, this means that when your appliances go awry, not only will it cause disruption to your daily routine, but it also means that water damage repair will likely be required.
For fast and effective water damage restoration, you can count on the Canada's Restoration Services team. Water damage repair and restoration should be conducted immediately and professionally; if not, you risk permanent water damage, mold growth, and structural issues in your home. Our team shows up on site in 45 minutes or less for emergency water damage restoration.
Here's how to identify if your home appliances issues are causing water damage.
Washing Machine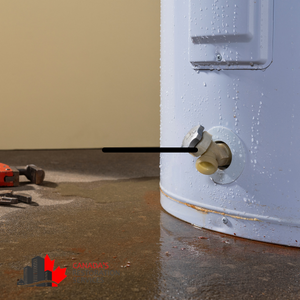 Water damage from a washing machine may happen in a variety of ways. The most common cause of water damage from your washing machine is a result of the door not being sealed correctly. Because the doors on front loading washing machines are frequently used, the seal may get broken or worn down over time, resulting in water spilling through the front of the machine. Another reason for leaking washing machines is a loose hose clamp. If the connection between your washing machine and hose feels loose, water will leak damaging any drywall and flooring in the vicinity.
Water Heater
A leaking water heater is one of the most common causes of water damage in a home and one of the most dangerous. Because water heater leaks often go unnoticed and unchecked, water may be leaking for an extended period before professional water damage repair services are brought in to help. Water heater leaks are typically due to corrosion or a faulty water valve, causing minor leaks to develop. To facilitate leak detection, look for rust, small puddles, or even mold outbreaks in the same area of your water heater.
Dishwasher
Like any other water-dependent appliances, water damage restoration is most frequently needed when there is a loose connection between your dishwasher and the main hose, the door isn't properly sealed, or if the main hose is cracked. Dishwasher leaks will release water into the kitchen during cleaning cycles. It's tricky to identify leaks coming from your dishwasher, since they're usually hidden below the machine or behind it. But if you notice leaking water, save your cupboard and your kitchen, and call Canada's Restoration Services for water damage repair.
Air Conditioner
Air conditioners will leak water primarily due to a clogged drain line — the drain line can become clogged with dirt, dust, mold, and other debris. As a result, this causes condensation to form in your air conditioner and leak into your home. When it comes to identifying leaks from different appliances, it usually involves finding a pool of water. However, air conditioners differ because a leak or a clogged drain line is heard rather than seen. If you hear strange hissing or bubbling sounds, that's the first sign that your air conditioner has an issue. Other signs that your air conditioner may soon cause severe water damage may include condensation dripping, a loss of cooling power, and if your home's humidity is increased.
An untreated leaking appliance can threaten the structural integrity of your home and its air quality. Fix it fast with professional restoration services from the team of IICRC technicians at Canada's Restoration.