Are These Commercial Contaminants Affecting Your Team?
Posted in Asbestos Removal, on March 24, 2022
---
Hidden contaminants in your workspace can have several negative implications on your business. Not only can toxic particles in the air impact your employees' health, but they can also influence productivity and morale. More importantly, such contaminants can tarnish customer satisfaction and retention.
In addition to asbestos testing in Toronto and mold testing in Toronto, Canada's Restoration Services also provides safe and effective cleaning services to commercial properties. Our technicians have extensive experience in cleaning and removing various harmful contaminants, from microscopic viruses to friable asbestos or mold outbreaks.
Read more to learn about our approach to eliminating toxic contaminants from the workspace.
Mold Remediation in Toronto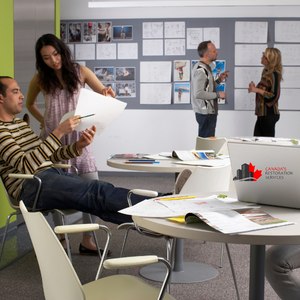 If you notice that your employees or customers are experiencing headaches or allergy-like symptoms while in your business, you could be dealing with a mold outbreak. Mold outbreaks in the workplace are generally the result of water damage brought on by a water leak. If you suspect that mold has contaminated your business, consult with an expert at Canada's Restoration Services before looking into the issue on your own.
Mold removal begins with mold testing in Toronto. Our team will take samples of the mold and provide them to a third-party lab for testing. This helps inform our technicians of the outbreak's scope and what toxicity levels are present.
Always consult with a professional first, as you risk cross-contaminating your business if you attempt to clean up the issue on your own.
Asbestos Testing in Toronto
Similar to a mold outbreak, you should consult with a professional to address a potential asbestos-containing material contaminating your workspace. Never attempt to clean or remove asbestos by yourself, as you're jeopardizing the health of everyone at your business, including your own.
Most asbestos-containing materials are in a friable state by now, which means that they are easily disturbed and can quickly send toxic particles airborne. When inhaled, this can lead to severe, long-term health conditions, with a common illness being malignant mesothelioma cancer.
Consult with Canada's Restoration Services to have asbestos testing in Toronto done at your business. Just like inspecting a mold outbreak, we take samples of the asbestos-containing material in question and send them to a third-party lab. This helps us determine how toxic the asbestos is and the scope of our removal.
Bacteria and Viruses Disinfection
Hidden viruses and bacteria can lead to all sorts of illnesses in your workplace. As helpful as basic sanitation can be in limiting the spread of such contaminants, it isn't enough to kill them off entirely, as many viruses can travel through the air.
Canada's Restoration Services utilizes a fogging technique that will disinfect a commercial space through an EPA-approved botanical cleaning solution. The solution can reach any crack and crevice in your business, effectively disinfecting your workspace.
Smoke Damage Repair
If a fire recently broke out at your business, you may be dealing with lingering smoke damage particles. Toxic particles due to smoke damage include soot, tar, carbon monoxide, carbon dioxide, and other harmful chemicals released into the air through various burned materials. Soot and other particles can lead to severe skin irritations. Breathing in one or more of these contaminants can also result in various health risks, such as respiratory illnesses, nausea, brain damage and even death due to increased carbon monoxide in your lungs.
If you haven't already consulted with Canada's Restoration Services on fire and smoke damage repair, we recommend that you do so now.
Commercial & Residential Restoration Services
For trusted restoration services, Canada's Restorations can handle everything from mold testing and removal to asbestos abatement and more.