Are Leaks Causing Mold in Your Hamilton Home
Posted in Flood & Water Damage, on March 31, 2023
---
Unfortunately, leaks and water damage in the home are inevitable. Even with preventive measures, minor leaks are bound to occur. Leaks create a moist environment attractive to mold spores, often resulting in mold growth. If the leak goes unnoticed for a long period, the water damage will be extensive and cause widespread mold infestations. If you notice a leak or signs of mold growth, contact Canada's Restoration Services for mold removal in Hamilton and water damage restoration.
Keep reading to learn about how leaks cause mold growth in your Hamilton home and how to prevent and mitigate the damage.
Understanding the Relationship Between Leaks and Mold Growth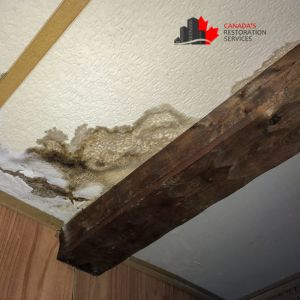 For mold spores to settle and grow, the environment needs a water source and low ventilation. A leak in your home creates the moist environment mold needs to thrive. Leaks commonly occur within walls, ceilings, attics, in the basement, and around plumbing systems. Essentially, wherever there is water lingering in your property, mold infestations will soon follow.
The Danger of Mold Growth Caused By Leaks
Mold growth caused by leaks can be incredibly dangerous. The water left to linger, and the mold infestations may cause widespread structural damage, wood rot, and electrical damage. More so, it may result in adverse health effects, like fatigue, skin irritation, migraines, and many respiratory issues.
Signs of Mold Growth
If you notice any changes in your health, you may have mold infestations lurking within your walls. Other telltale signs of mold infestations include discolouration or staining on your walls or ceiling and the strong, pungent odour of mold. To prevent mold from spreading further, contact Canada's Restoration Services for mold removal in your Hamilton home.
Identifying Leaks in Your Hamilton Home
When identifying leaks in your property, there are a few things to remember. Water damage in your property often causes discolouration or staining in walls and ceilings, bubbling paint, or warped floors or walls. You may also notice a higher water bill than usual or, in some cases, the sound of dripping water. If you suspect a leak in your property, contact Canada's Restoration Services. We'll conduct thorough inspections and, if necessary, perform comprehensive water damage restoration.
Preventing and Mitigating the Effects of Mold and Leaks
Preventing mold growth is essential to ensure your home is safe and healthy. Keep humidity levels low with a dehumidifier to reduce the likelihood of mold festering in your home. Conducting regular maintenance around your plumbing system is also critical in reducing the risk of mold outbreaks. If you notice the air in your property has been unusually humid, contact a professional service for a mold inspection. At Canada's Restoration Services, we'll identify all sources of mold and the reasons behind the infestation, such as leaks.
Dealing with the Aftermath of Water Damage and Mold Growth
In the event that water damage or leaks occur, it's imperative to get professional water damage restoration and a mold inspection as soon as possible. Acting fast with water damage repair and mold removal minimizes structural damage and the effects of mold outbreaks. Canada's Restoration Services is a leading restoration company in Toronto, Southern Ontario, and throughout Canada offering reliable mold removal services, asbestos abatement, and flood damage cleanup.
For comprehensive mold inspections, removal, and water damage restoration, contact Canada's Restoration Services.