Are Household Plants Contributing to Mold Outbreaks at Home?
Posted in Mold Removal, on March 15, 2022
---
Mold spores travel everywhere and often end up inside our homes and businesses through open doors or windows until they happen upon the right spot for growth. One lesser known area prone to mold are house plants. If you encounter mold in your indoor plants, there may be other outbreaks in your property, and you'll need to contact a professional for mold removal in Toronto. If you have indoor plants and notice the distinct odour of mold lingering in your property, contact Canada's Restoration Services for mold testing in Toronto to catch the infestation early and prevent it from spreading further throughout your property.
To learn more about how indoor plants may be contributing to mold outbreaks in your property, continue reading.
Why Does Mold Like Indoor Plants?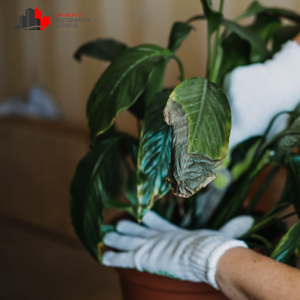 Indoor plants provide the source of moisture and organic matter that mold spores require to become an outbreak. Mold spores are attracted to household plants for many reasons, like overwatering, inadequate drainage, lack of sunlight, and decomposing leaves. Together, these factors create the perfect conditions for exponential mold growth. If you see mold on your plants or in the potting soil, take it as a sign to water your plants less and contact Canada's Restoration Services for mold testing in Toronto.
Types of Mold in Indoor Plants
There are various types of mold found in plants, but the most common is white powdery mildew. White mildew often grows on your plants' soil, foliage, and stems and has a white, flour-like consistency. While this type isn't harmful to people, it will kill your plant, and it should be eradicated immediately.
More seriously, there is a chance of black mold infecting your plants. Black mold thrives in excessive humidity, and household plants may aid in its growth, especially when plants are oversaturated. Black mold will usually appear on the soil of your plants or on the surrounding walls or floors and has distinct, dark spots. If you suspect that black mold may have infiltrated your household plants, contact Canada's Restoration Services right away for mold testing in Toronto. If an inspection uncovers mold elsewhere in your property — our team of experienced technicians will implement a safe and comprehensive action plan for mold removal in Toronto.
Can Mold Spread From Plants?
It's easy for mold spores to travel from your plants and land in other parts of your property given the right conditions. To prevent mold from travelling throughout your home or business, ensure that you have adequate airflow, plenty of sunlight, and minimal humidity. Without a water source and stale air, mold spores have a reason to settle into outbreaks from room to room.
Signs You Need Mold Removal in Toronto
Mold outbreaks are not always in plain sight, so effective detection depends on your other scents. Be mindful of the distinct and pungent odour of mold in your property, and keep an eye out for black or green spots on wall corners especially around your plants. Of course, the best way to uncover the exact location of an outbreak is with a professional inspection and mold testing in Toronto.
Professional Mold Remediation Services Toronto
Don't let the fear of plant-induced mold get in the way of your day to day. If you notice the signs of an outbreak, get support from the best mold removal services in Toronto for inspections, testing, remediation, and clean up.