Are Asbestos Spray Coatings a Problem on Your Commercial Property?
Posted in Asbestos Removal, on December 08, 2021
---
Throughout the 20th century, asbestos fibres were commonly used in construction throughout Toronto. The heat-resistant fibres made for an effective insulator and were used to fortify other materials such as cloth, cement and plastic. One building material that had often included asbestos was spray foam insulation, thanks to its inherent insulating properties and fire-proofing capabilities. But, likely, asbestos spray foam would soon be deteriorating, requiring professional asbestos abatement in Toronto.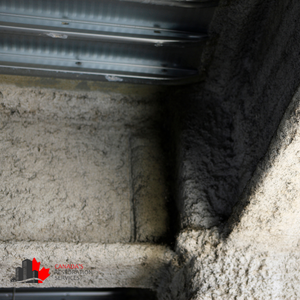 Despite being an effective insulator, asbestos was not without risk. When inhaled, asbestos fibres can be trapped in the lungs for an extended period of time, leading to severe health issues such as cancer. The use of asbestos in construction and labour jobs died out before the turn of the millennium, but its effects are still felt today. The fibres continue to linger in many older buildings, as proven by asbestos testing in Toronto. Soon realizing the dangers of working with the mineral, property owners began turning to asbestos abatement in Toronto.
There are several building restoration services, such as Canada's Restoration Services, that conduct asbestos testing in Toronto to identify the risks of asbestos spray coating. If you suspect that deteriorating asbestos spray coating is present in your property, call an expert in asbestos abatement in Toronto rather than addressing the issue yourself.
How to Identify Asbestos Spray Coatings
When it comes to asbestos spray foam, the fibres were bound with cement and applied to walls, attics, roofs, and pipes, acting as thermal and anti-condensation insulation. Asbestos sprayed coatings commonly served as fire protection, where it was applied to beams and ceilings. It was used in factories as fire protection and soundproofing.
Companies like Canada's Restoration Services handle asbestos abatement in Toronto through inspections and third-party lab testing. Once asbestos-containing materials, such as asbestos sprayed coatings, are identified, experts gauge the level of danger it presents before proceeding to full-scale asbestos removal.
How Does Asbestos Spray Coating Become Dangerous?
Asbestos spray coatings can contain a high volume of asbestos, ranging from 55% to 85% pure asbestos. The practice of applying asbestos spray coatings was a dangerous one, as workers at the time did not wear PPE and would use a larger sprayer. As a result, the spray would not only hit its target but would contaminate the surrounding area as well.
The removal of asbestos spray coatings is particularly difficult and should only be managed by licensed contractors and experts, such as Canada's Restoration Services. When coatings are removed, the minerals can spread during the process., are required when removing the coating. An injection suppression method is used to remove the asbestos spray coating. How it works is that the injection needle saturates the coating down to the surface level, and the whole material will be removed wet.
The Safe Choice When Removing Asbestos Spray Coatings in Toronto
Canada's Restoration Services provides effective asbestos testing and abatement in Toronto. During an inspection, technicians will send samples to a third-party lab to verify the presence of asbestos. Full containment and equipment are set up to ensure that belongings are safe from cross-contamination during the removal process.