A Guide to Hiring The Best Asbestos Removal Company
Posted in Asbestos Removal, on April 05, 2021
---
Without a doubt, asbestos removal needs the attention of a professional. From end to end, this is specialized work that requires trained technicians experienced with asbestos materials. For professional asbestos removal in Toronto, Canada's Restoration Services provides a complete range of services for a wide range of residential and commercial customers.
By any definition, asbestos is a challenging problem to deal with, whether in a typical residential home or a large commercial building. And when asbestos is discovered, there's always a chance that the material could present potential health risks. For expert asbestos testing in Toronto, customers can rely on the professional team at Canada's Restoration Services.
Customers looking for asbestos removal in Toronto (and asbestos testing in Toronto) would be wise to shop around carefully. It's important to hire a company that is reputable and reliable, and above all, one that specializes in asbestos. There's no perfect formula, but following some guidelines can be helpful in making a prudent choice.
Helpful Guidelines For Hiring A Professional Asbestos Removal Company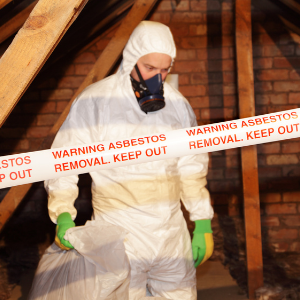 When asbestos is discovered, it may become necessary to remove it. It's considered a hazardous material in any application and is therefore banned in most countries. The truth is, asbestos is not uncommon to find in buildings that were constructed many decades ago.
By no means is asbestos removal a DIY project. It's a dangerous material with significant health risks. When asbestos is being removed, toxic fibres are released into the air, posing great danger when inhaled. That's why a professional approach is the only viable option.
With asbestos, property owners must hire a professional asbestos removal company. These experts will conduct the proper asbestos testing protocol and proceed to remove the material with special equipment. Professionals know how to do the job right.
Licensed Asbestos Technicians
When choosing an asbestos removal company, it's important that the company technicians are licensed. Given the hazards associated with asbestos, this work should not be performed by anyone else. It's also not the right time to take shortcuts or cut corners (to save some money). This type of work should be done right the first time. Licensed technicians are also thoroughly trained – they ensure the safe and effective removal of asbestos while protecting themselves and customers.
Removal Methodology
A reputable asbestos removal company will offer a comprehensive removal process from start to finish. In addition to a complete inspection of the property, they will identify the location and scope of the asbestos deposit. More than that, they will employ the latest methodology and equipment to ensure the best long-term results. Finally, a good contractor will safely dispose of all waste material and finish the job by repairing and restoring the space to its original condition.
Company Reputation
Like other home improvement projects, it's essential to confirm a company's reputation before doing any hiring. It's particularly true with asbestos removal because of the nature of the work. Clearly, there are countless sources and resources to check out companies. The fact is, a reputable and reliable company will gladly share their industry accreditations and past work experience. And there's nothing wrong with asking questions relevant to the project itself.
Professional Asbestos Removal in Toronto
When asbestos is left undisturbed, there is little potential for hazard. However, once discovered, a complete removal is usually recommended. When disturbed for any reason, asbestos can undoubtedly be dangerous – the airborne particles can pose a health hazard for young and old.
Asbestos remediation must be undertaken with strict health and safety precautions. At Canada's Restoration Services, we do all the work from start to finish. Once the asbestos removal process is complete, we provide a certificate to authenticate the efficacy of the remediation work.
For asbestos testing in Toronto, Canada's Restoration Services employs an independent 3rd party lab to test and verify the asbestos samples found on site. In terms of our asbestos removal methodology, we follow a comprehensive step-by-process that ensures the best results.
Inspection: comprehensive inspection of premises followed by 3rd party laboratory analysis
Scope of Work: we provide an in-depth Scope of Work to outline our step-by-step process
Containment: the worksite is fully contained and air quality ensured with special equipment
Removal: thorough removal of asbestos materials includes safe and effective waste disposal
Cleanup: the final cleanup ensures that all asbestos fibres and residual dust are removed
Clearances: asbestos removal clearances are secured through an independent 3rd party
Choosing the Best Asbestos Professionals
With asbestos removal in Toronto (and asbestos testing in Toronto), there are countless service providers to choose from. What's important is to choose wisely when hiring, mainly because of the dangers and hazards of asbestos. At Canada's Restoration Services, our trained technicians always follow strict industry guidelines and established safety protocols.
Our technicians are trained specifically to provide asbestos abatement services. On every job, they aim to eliminate all traces of asbestos material and any residual asbestos fibres. More than that, our step-by-step asbestos removal process is also designed to prevent cross-contamination at the worksite. Beyond anything, the team at CRS is focused on delivering 100% customer satisfaction.
For the Expert Asbestos Remediation, Count on Canada's Restoration Services
With Canada's Restoration Services, customers are assured of the most comprehensive asbestos remediation. Our in-house technicians are IICRC Certified and specialize in every aspect of asbestos abatement. When asbestos is suspected or discovered, send a sample to a certified lab. Then send us the positive lap results and our technicians will be happy to provide a FREE property inspection to determine the work scope and the estimated cost.
Canada's Restoration Services specializes in both residential and commercial properties. In addition to professional asbestos remediation, we also offer services such as water damage restoration and smoke damage reconstruction. CRS currently services customers throughout the Greater Toronto Area as well as Ottawa, Montreal, Calgary, Edmonton, and Vancouver.
When immediate attention is required, the team at CRS can provide emergency service around the clock. Learn more about all of our remediation and restoration services by calling 1-888-551-0514 or by visiting our company website directly at www.canadarestorationservices.com.