5 Natural Events That May Cause Asbestos Exposure
Posted in Asbestos Removal, on August 20, 2021
---
Much to the surprise of many Canadians, residential and commercial properties in Toronto may have asbestos mixed into their building materials. While these asbestos-laden materials are typically sealed away, an unforeseen weather event may leave you in need of asbestos removal in Toronto. Since every season brings the city a wide variety of weather patterns and storms, it's wise to get an expert inspection and asbestos testing in Toronto before bearing the brunt of a storm.
Here is what property owners in the GTA should know about storms and asbestos.
Why Asbestos Is More Dangerous Following a Storm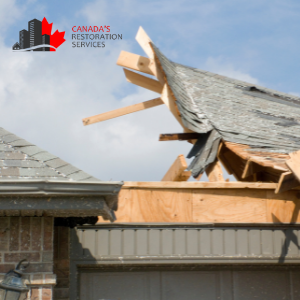 Storms can bring on all types of dangers, including flying debris, live wires, flooding, and mold exposure. While asbestos does not put those in the vicinity in the same immediate danger, it poses a significant risk that should be addressed. High winds, falling trees, ice damage, or considerable flooding can all expose building materials that may contain the material. Properties in the GTA built before the 1990s between the 1960s and 1980s are more likely to contain asbestos. However, there may still be asbestos in a property built after that period since the mineral was under a heavy ban until 2018. To know whether you're at risk, it's most effective to get reliable asbestos testing in Toronto before a storm is forecasted.
What Storms Should You Be Most Vigilant About in Toronto
In Southern Ontario, there is no shortage of storms or natural events to be concerned about. Every season brings a new set of challenges to property owners and managers.
Tornados
Properties in the GTA are vulnerable to high wind storms and tornadoes, known for their ability to cause significant damage in a short period of time. The typical tornado brings winds as strong as 180 km/h that can rip roofs off homes. If you return to a property following a tornado and notice exposed ductwork or vermiculite insulation, it's imperative that you seek professional asbestos removal in Toronto fast as high winds can distribute airborne asbestos fibres throughout your property which may lead to inhalation.
When it comes to asbestos removal, Canada's Restoration Services' emergency response is unmatched. We work quickly, safely, and effectively, providing accurate 3rd party asbestos testing in Toronto in addition to inspections and abatement.
Earthquakes
Earthquakes around the city are typically few and far between, but that doesn't mean they're unheard of. The last notable quake occurred in the Toronto area in 2013. While the infrastructure in Canada is equipped for seismic activity, structural damage from falling trees can or items within a building that are not secured can damage walls exposing asbestos in drywall, ceiling tiles, or floor tiles. If asbestos is not sealed away, the momentous shaking of an earthquake can undoubtedly cause the fibres to become airborne and dangerous.
Ice Storms
Ice storms behave differently than most other natural events we are warned about. In Toronto, ice storms cause virtually everything in their path, from cars, homes, and trees, to be covered in a thick icy glaze. While it may look nice, the potential implications of this weather can be detrimental. Following an ice storm, the weight of a tree branch can be up to 20 times its average weight and then the same goes for homes enveloped in ice. The surmounting weight of the ice can cause roofs to collapse, bringing insulation, roof shingles, pipes, and walls crashing down. These building materials can be asbestos. While wet fibres from melting ice can slow the spread of airborne asbestos fibres, it won't stop it completely.
In the wake of a storm that may have exposed asbestos fibres, the safest decision is to immediately evacuate the building and find a professional asbestos service in Toronto. If you're in the vicinity of damage, wear the proper personal protective equipment and begin asbestos removal as soon as possible.
Call Canada's Restoration Services today to book an asbestos inspection in Toronto.