5 Factors That Affect Mold Removal Costs
Posted in Mold Removal, on October 12, 2021
---
It's not uncommon for homeowners to walk into their house to be greeted by the unmistakable musty odour of mold. Mold is ubiquitous, surprising property owners every now and then with a major infestation. Since mold infestations are often not anticipated, those seeking mold removal in Mississauga are often understandably unprepared to incur mold removal costs. While the cost of mold removal varies on a case-by-case basis, there are constants that can help you determine the price of mold removal in Mississauga.
The best way to gauge mold removal costs is with a professional mold inspection. If you're looking for mold remediation near Mississauga, contact Canada's Restoration Services for a free mold inspection of your property.
In the meantime, here are 5 different factors that can affect pricing for mold removal from Canada's Restoration.
Materials Affected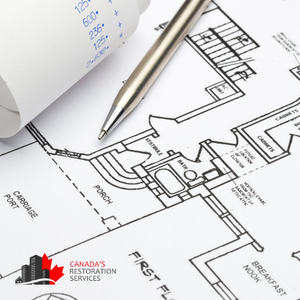 Mold interacts with building materials and fabrics differently. Depending on how porous the infested area is or whether the materials are organic like wood, mold removal costs vary. Carpet, insulation, and drywall are typically more permeable, so mold removal is more complicated. While concrete is hard, so the process is less intricate. Most severe mold outbreaks involve a combination of all these materials, so it's best to talk to a professional about pricing after a mold inspection.
Rooms Infested
In any property, access to each room and the safety of mold removal in that room varies depending on its location and functionality. This, in turn, influences mold removal costs. Mold outbreaks are most common in attics, crawl spaces, cold storages, bathrooms, and kitchens. Kitchens and bathrooms are relatively easy to access, making remediation easier than it would be in attics or crawl spaces.
Scope of Outbreak
Naturally, a small infestation covering less than ten square feet will be less costly than an outbreak blanketing hundreds or even thousands of square feet. The size of a mold outbreak is a critical factor in determining how much mold removal will cost. To minimize the spread of mold and control the extent of an infestation, remediation must occur as soon as possible. Once you notice a sign of mold, contact Canada's Restoration Services to get the mold removal process started.
Timeline of Mold Removal
For mold removal, time is of the essence, so the team of certified mold specialists at Canada's Restoration Services works quickly and diligently to get your property mold-free as soon as possible. But inevitably, the timeline is determined by the conditions of the infestation itself, and costs must be representative of that time commitment. You will have an estimate of the timeline from the start in your estimate to avoid any surprises regarding mold removal costs later on.
Mold Removal Methods
There are generally four different methods used for mold removal by Canada's Restoration Services: media blasting, anti-microbial, chemical wash, and physical removal. Sometimes one of these methods will be used exclusively, but it's more likely that technicians use a combination of techniques to ensure effective removal.