5 Areas In Your Home You May Uncover Asbestos
Posted in Asbestos Removal, on June 03, 2021
---
When doing home renovations and repairs inside your home, it's essential to be aware of the potentially hazardous substances inside your home. Asbestos was a standard construction material used to build houses up until the early 1990s in Toronto. It's essential to protect your home by getting asbestos testing, mitigation strategies, and asbestos removal in Toronto.
When asbestos is disturbed, it can release microscopic fibres in the air, which can be inhaled or ingested. Inhaling asbestos can lead to severe long-term health hazards, including mesothelioma and cancer. It helps to prepare for potential asbestos by knowing where the hazardous materials could be uncovered in your home by getting asbestos testing. For asbestos testing in Toronto, contact Canada Restoration Services to protect your home and people.
When is Asbestos Dangerous?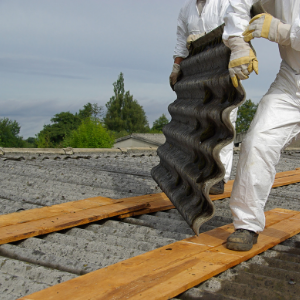 Despite being banned, asbestos is often found in many older homes, but it is not dangerous unless asbestos fibres are released into the air and inhaled. Tiles, drywall, shingles, ductwork, etc., will not remove asbestos fibres into the air if they are not disturbed, damaged, or interfered with in some way.
Where Can Asbestos Be Found?
Asbestos materials were used for various construction parts, meaning that the hazardous material could be found in many different parts of the home. When doing any home renovations, ensure it's important to assess whether you may encounter asbestos prior to beginning any constructions. Canada Restoration Services has extensive experience in safely carrying out asbestos testing in Toronto and removal if necessary.
Floor Tiles
Floor tiles installed in kitchens and bathrooms often contain asbestos. Sanding, sawing, drilling, or removing tiles can release the asbestos fibres into the air.
HVAC
HVAC systems are a complicated network of equipment composed of many different parts. Asbestos had been heavily used in ductwork and ductwork connectors. The ductwork circulates air throughout the home and is connected to the HVAC equipment via rubber connectors. When removing ductwork, call a professional. If not handled properly, asbestos fibres can easily become airborne and spread throughout the home.
Attic
The most common area for asbestos in homes is inside the insulation stored in attics. Asbestos is an excellent insulator as it is fireproof and durable. As a result, it was used very commonly for home insulation. Not all types of insulation will have asbestos, but to be safe, it's best to have attic insulation tested before any attic work.
Drywall
Older drywall often has asbestos which was used to strengthen and hold the drywall system. Sanding, cutting, or removing the drywall can release the asbestos fibres. Many home renovations involve drywall removal. If not handled properly, this can release asbestos fibres into the air.
Roofing
Cement sheets containing asbestos were often used in roof construction and the installation of shingles. Before roof repairs or replacement, it's essential to get a professional to inspect and test for asbestos.
What To Do If You Think There is Asbestos?
Asbestos doesn't have any distinct odour or colouring, so if you think you have asbestos inside your home, it's best to hire a professional for an inspection to test and remove asbestos in the building. If you have already started renovations, immediately cover the area and block it out by closing the door and windows and blocking any exit paths.
If you think you may have asbestos in your and planning on doing a renovation, contact Canada Restoration Services for a professional asbestos inspection and safe asbestos removal in Toronto.