4 Reasons Why Water Damage in Edmonton Should Be Treated Immediately
Posted in Flood & Water Damage, on November 10, 2021
---
If you've gone through the unfortunate experience of water damage, you know it can be stressful, expensive, and result in some severe destruction to your home and personal belongings. There are many ways your home can experience water damage in Edmonton, from pipe leaks, deteriorating seals, or leaks from your roof; it can either happen over a long period of time or quite suddenly. However it occurs, it's essential that water damage cleanup occurs as soon as possible. If there is an emergency, contact Canada's Restoration Services for water damage restoration, and we will respond within 45 minutes.
Continue reading to learn about why you should treat water damage in your Edmonton home immediately.
Signs of Water Damage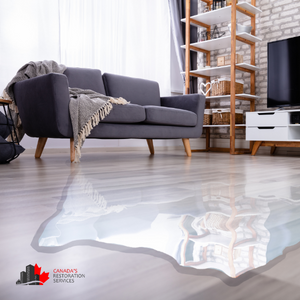 If water damage doesn't make itself apparent immediately or obviously, like in the result of flooding or other natural disasters, there are a few telltale signs to look out for that indicate you may need water damage restoration in Edmonton.
A clear visible sign of water damage in Edmonton is the appearance of your ceiling and walls, especially in corners. Look out for discoloration or staining as well as bubbling and peeling paint in your walls and ceilings. Other signs that your home may have fallen victim to water damage is if there's a musty smell, excessive humidity, or even pooling water. If you notice any of these indicators, contact Canada's Restoration Services right away for water damage cleanup and repair.
Mold Infestations: If water damage restoration in Edmonton is put off, the risk of mold infestation will increase significantly.. Mold thrives in damp, humid environments, and if water damage restoration hasn't been conducted within the first two days, mold will likely grow and spread rapidly throughout your home. Mold can impact furnishings and structural integrity of a property as well as the health of occupants, so fast water damage restoration and mold inspections in Edmonton are crucial.
Electrical Damage: When you notice water damage happening in your home, it's imperative that you unplug everything, protect outlets, and elevate all electronics. Any electrical outlets or wiring exposed to water damage is highly dangerous and can even be fatal. Even if it's minimal, any time wiring is exposed to moisture, your electrical system can cease. Getting water damage treated right away can help prevent damage and minimize on-site hazards.
Aesthetic and Visual Appearance: If water damage has been left untreated for longer than 48 hours, the appearance and overall feel of your home will be seriously affected. Odours, stainings, and the reduced functionality of your home will worsen exponentially and increase discomfort.
Home Value: Over time, the evidence of untreated water damage becomes more difficult to hide which can reduce the value of your home. Immediate water damage restoration in Edmonton, will restore your property and help mitigate property damage and loss of value.
Contact A Professional for Water Damage Restoration in Edmonton
Contact a professional immediately when you see water in your home, whether it's a flood or a slow leak from a pipe. If water levels are rising quickly in your home, turn off all electronics, elevate all your personal belongings to a safe space, and call Canada's Restoration Services.