4 Delayed Mold Removal Costs You Can Avoid
Posted in Mold Removal, on September 07, 2021
---
Mold can go hidden and undetected for a long time. Even if you start to smell an odour that is connected to mold, it can be difficult to trace its origins. The inability to not locate where mold is infesting your home can cause you not to begin mold removal in Mississauga right away. But waiting to deal with mold is not only problematic for health reasons. A delayed response to mold indoors leads to additional expenses and problems besides just mold removal costs.
Here are costs you may incur when mold removal in Mississauga is not initiated urgently.
Water Damage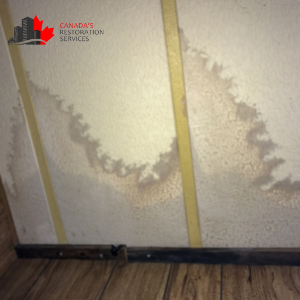 Mold is a common symptom of water damage. If you're smelling mold, you might be in for more than just mold removal in Mississauga. Water damage can cause building materials to rot and structural damage. To identify the source of mold in your property and to minimize any physical damage, scheduled regular mold inspections and testing is recommended. At Canada's Restoration Services, trained technicians assess the most vulnerable areas of homes, offices, stores, and other properties for traces of mold on surfaces and in the air. During this process, you will be able to pick up on any hidden water damage.
Damage to Sentimental Items
Mold feeds off of organic and cellulose items. This means certain fabrics, photos, newspapers tucked in the attic or basement for safekeeping might not be so safe in the event of a mold outbreak. A fast response from a mold removal service is the most effective way to protect priceless items from mold-related damage. If you want to ensure your most treasured items are safe from mold, it helps to secure them tightly in plastic containers.
Damage to Insulation
Insulation is tucked away within the walls of your home, attic, and basement. When exposed to moisture through leaks and humidity, the insulation can quickly become contaminated by mold. Since drywall, wood, and the insulation itself facilitate mold growth, it's crucial to identify and remediate outbreaks sooner rather than later. Without mold removal in Mississauga, insulation can become ineffective, leading to increased monthly spending on heating and cooling bills which cumulatively can be far more expensive than mold removal costs. If you think mold might be in your insulation, call Canada's Restoration Services for a mold inspection right away.
Health Repercussions
Have you not been feeling well recently? The culprit could be mold. By avoiding mold removal in Mississauga, you may actually be exposing yourself further. Mold in your home or workplace harms air quality and leads to allergy-like symptoms. Depending on the species of mold, the health repercussions of unabated mold are not always mild. Sometimes mold infestations can lead to severe headaches, nausea, and dizziness. Not only will you need to incur mold removal costs, but you've paid in days off work.
The best way to minimize mold removal costs is with comprehensive professional indoor mold testing in Mississauga.
Contact Canada's Restoration Services to detect mold and reduce costs by avoiding these problems. We offer mold removal services in Toronto and all major cities surrounding Toronto, Ottawa, Montreal, Edmonton, Calgary and Vancouver.