3 Types of Asbestos Removal Operations in Ontario
Posted in Asbestos Removal, on March 29, 2022
---
When asbestos-containing materials are discovered on a property, there are 3 main approaches taken by professional asbestos abatement contractors to ensure that the process is safe, effective and efficient. Every step is strategically planned out, from asbestos testing through to asbestos removal. At Canada's Restoration Services, our team of asbestos abatement contractors follow industry best practices and safety standards as well as regional government regulations to maximize the outcome of asbestos removal across the country.
The first step to effective asbestos removal is an inspection. If you suspect decaying asbestos on your property, Canada's Restoration Services offers free asbestos inspections. During which, we will inspect the entire area and collect samples for 3rd party asbestos testing. Once asbestos is confirmed, it's imperative to move quickly with asbestos removal to minimize potential contamination or inhalation of hazardous fibres.
The Three Types of Asbestos Removal Operations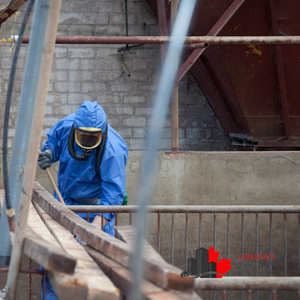 Ontario's Ministry of Labour, Training and Skills Development issued a regulation in 2007 that outlines three types of operations that pertain to work involving asbestos on construction projects, buildings, and repair operations. Each contains a set of checklists that workers must follow, including the team at Canada's Restoration Services, although the guidelines vary depending on the nature of the asbestos-related work.
When you turn to a professional for asbestos removal services, there are 3 main types of removal. Here's what you need to know about each.
Low-Risk Asbestos Removal
Items that are low risk and require asbestos removal are typically non-friable, which means the harmful asbestos used in the contaminated items is not in a state of decay. Therefore, they only pose a minor risk of becoming airborne. Some common types of low-risk materials include gaskets, vinyl tiles, and asbestos cement. Technicians at Canada's Restoration Services will confirm that these items are, in fact, non-friable and low risk during inspections and asbestos testing.
During low-risk asbestos removal, the goal is to minimize dust or airborne particles and remove contaminated materials. Even when low-risk asbestos removal is underway, there is no eating or drinking in the designated zone, and asbestos-grade personal protective equipment should be worn at all times. To mitigate the spread of hazardous asbestos fibres during this type of asbestos removal, technicians will use wetting agents, specialty drop cloths, and vacuum cleaners equipped with HEPA filters.
Medium Risk Asbestos Removal
The second type of asbestos removal involves materials that are both non-friable and friable, putting asbestos abatement workers at a medium risk since exposure is more likely to occur. To ensure safety during Type 2 asbestos removal, non-certified technicians should vacate the premises. All those in the area must be wearing PPE, including disposable coveralls, because ordinary clothes can easily trap airborne asbestos fibres.
Similar to Type 1 Operations, a wetting agent is used to contain the spread of dust and asbestos fibres. Any friable asbestos-containing materials that aren't damaged must be wetted and kept wet. Powder or crumbled asbestos-containing materials must be cleaned up and removed using damp wiping or a HEPA-equipped vacuum.
High-Risk Asbestos Removal
During high-risk asbestos removal, the type of asbestos involved and the state of the fibers indicate the likelihood of exposure for someone untrained is exceptionally high. During the high-risk asbestos abatement, containment and protective gear, including respirators, are of the utmost importance. Operations are deemed type 3 or high risk when the area affected exceeds 1 metre square during maintenance, renovation, or demolition. High-risk operations and procedures are required to remove air handling equipment, spray fireproofing, ducting, and other materials contaminated with asbestos.
To ensure that asbestos removal is carried out effectively and adequately, contact Canada's Restoration for inspection and testing services.