Asbestos in Floor Register Vents
Due to the location, having asbestos near vent registers and duct work needs to be addressed immediately.
What does asbestos in register vents look like?
The picture below on the right shows what asbestos in register vents looks like. The one on the left does not. It looks like a plaster material and it will be found in between the outside of the duct and the inside of the floor boards. The more damaged this material looks, the more dangerous it can be to your health.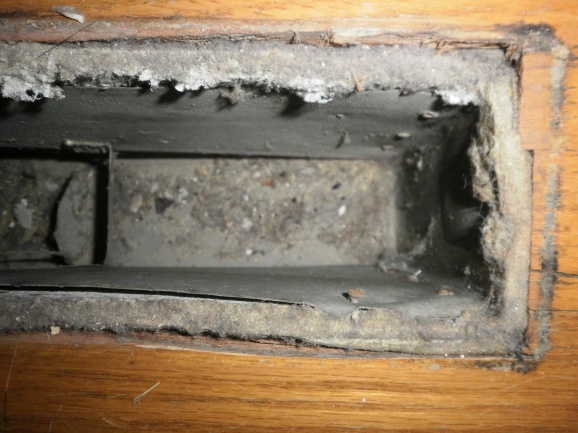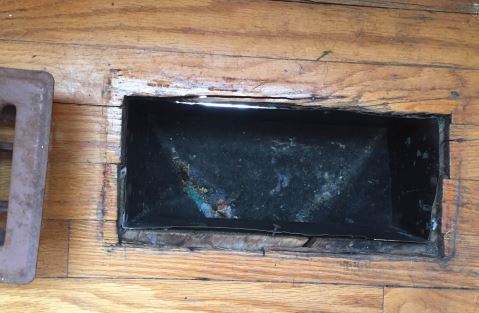 Other commons names for asbestos in vent registers are;
asbestos in floor vents
asbestos in wall vents
asbestos in heat vents
Asbestos in the duct vents
asbestos around duct work
asbestos around heat pipes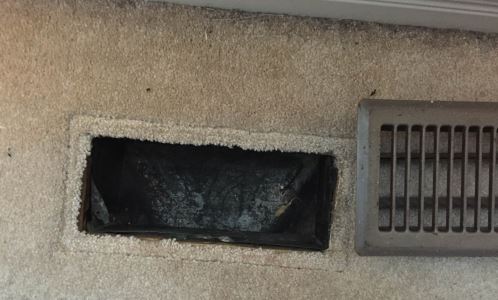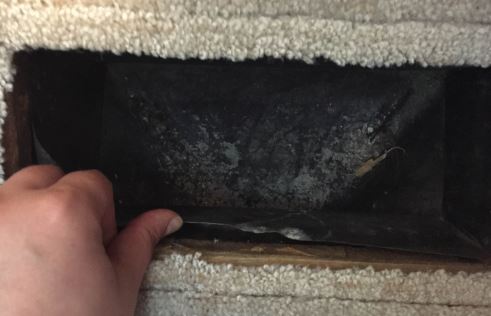 As you can see by the pictures above, by pulling the duct slighly away from the floor boards, there is no sign of the plaster looking material. This is a good sign as there is no asbestos wrap there.
No matter what you may call it, it needs to be handled by a professional.
If you have any asbestos in your home or property, it is important to monitor its condition. Any loose or broken fibers can be detrimental to your health. Undisturbed asbestos fibers are not an immediate harm to your health unless it begins to deteriorate. It is vital that immediate action is taken if any Asbestos fibers are broken or loose. Asbestos can be very harmful to your health and respiratory system. By having loose or broken fibers near vent registers, it can allow for it to travel throughout your home.
Asbestos needs to be removed by a professional and not be done as a "DIY." Asbestos contains very harmful fibres and over exposure has been proven to cause lung cancer. There are procedures and steps regulated to ensure for safe removal and only professionals who have been properly trained should remove asbestos. In order to remove asbestos properly, it would require negative air, seal off and encapsulated sealants (lock-down) as well as numerous chambers to prevent cross contamination and elevated asbestos fibers.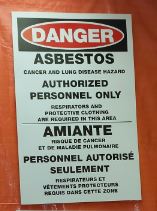 Don't risk your health, we provide FREE inspections and FREE estimate and advice on the proper steps on the asbestos abatement.
Not only do we remove asbestos from flor vent registers, we provide abatement services for:
Asbestos Pipe Wrap
Asbestos Boiler Pipes
Asbestos Duct Wrap
Asbestos Plaster
Asbestos Drywall
Asbestos Insulation
Asbestos Vermiculite Insulation
Asbestos Floor Tiles / Vinyl Floor Tiles
Asbestos Ceiling Tiles
Asbestos Board
If you suspect you have any of the above, don't wait, give us a call and we will provide a free inspection!
1-888-551-0514