FREE ASBESTOS INSPECTIONS
From 1 squarefoot to 1000's of squarefeet, we do it all! No matter how big the size or what type of material, Canada's Restoration Services' highly trained and certified staff can help out with your Asbestos Projects; such as Asbestos removal and inspection. Asbestos can be highly hazardous, so it is very important when hiring an asbestos company, to hire the right one.
One of our certified asbestos project managers will come to site and perform a Free Inspection (if the presence of asbestos has been confirmed) to determine the scope of work and cost associated. Our top priority is keeping you and those in the property safe, so all removals are done according to industry guidelines.
Asbestos Testing - In the event that asbestos has not been confirmed, during the asbestos inspection, samples can be taken and provided to a third party labratory. This step is a mandatory procedure before any demolitions or removals begin with potential existence of asbestos in building materials. Call us today to recieve an over the phone estimate with asbestos-related testing costs.
We set up full containment and equipment to ensure that you and your property is safe from any cross containmination. All affected material is bagged in asbestos certified bags and disposed of properly.
We provide certificates on all our asbestos projects and are transferable to new home buyers.
Call Now For a Free Inspection i
f you require any of our Asbestos Services.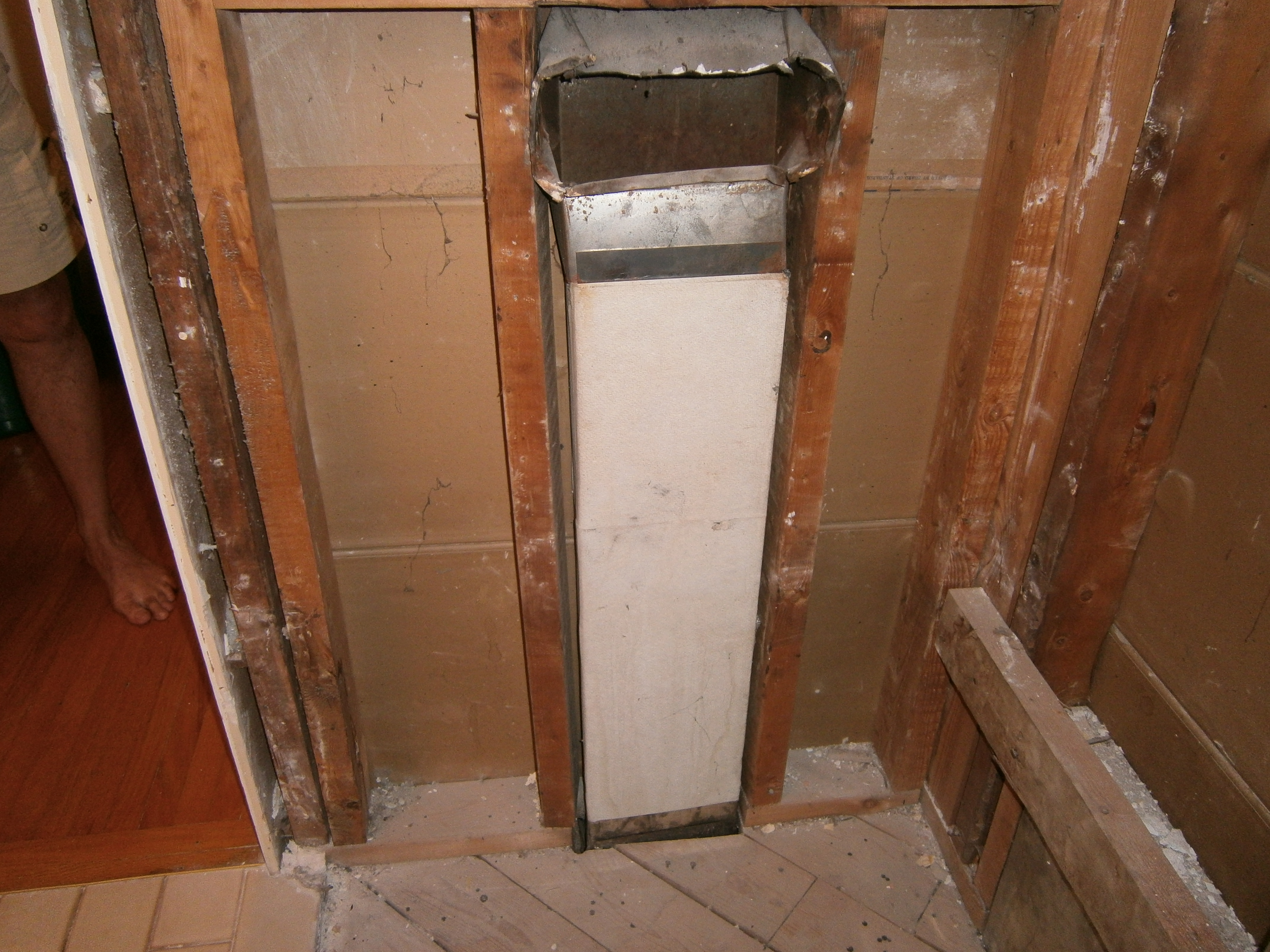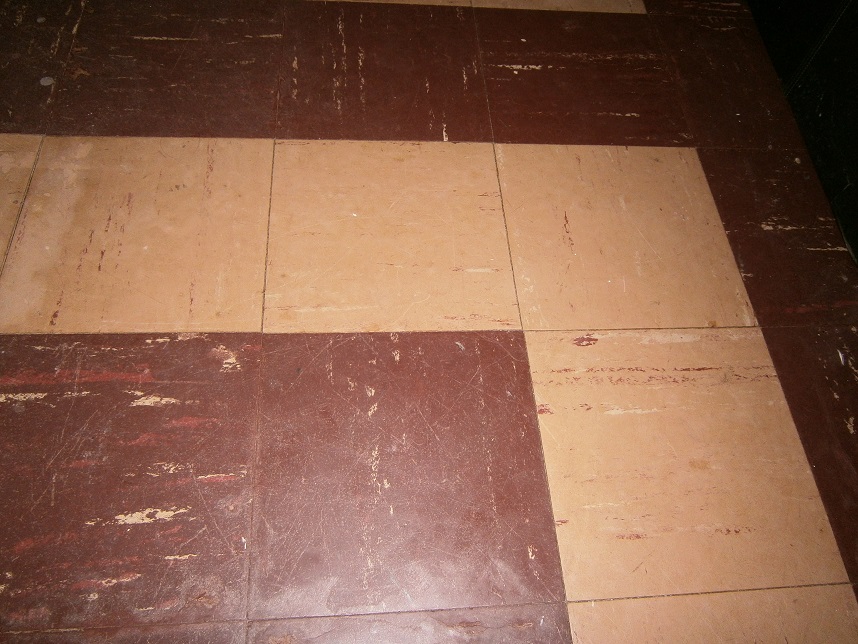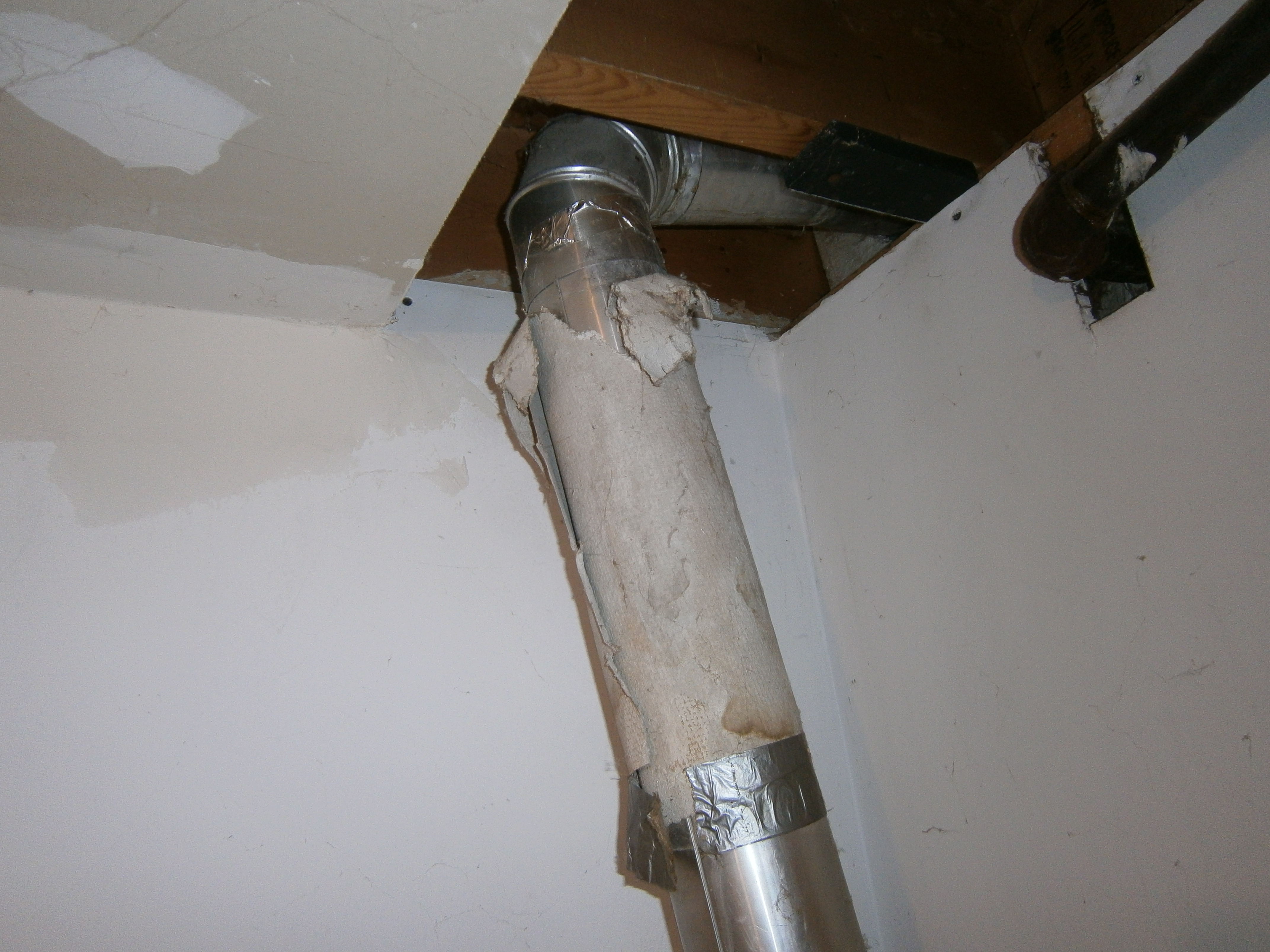 To learn more about Asbestos Removal Costs, Click Here.
Canada's Restoration Services provides safe Asbestos Removal and Vermiculite Removal throughout Canada, servicing Toronto & GTA, Mississauga, Ottawa, Montreal, Edmonton, Calgary, and Vancouver.
We are a certified and insured asbestos removal and asbestos abatement company, providing you with the best solutions for all of your asbestos concerns.
With free estimates and great services by our experienced and trained staff you won`t want to look anywhere else.
At Canada's Restoration Services we use full containment under negative pressure, decontamination chambers and showers that are vital in order to safeguard everyone in the successful removal process of asbestos fibres and vermiculite insulation removal.
Here are some examples of what asbestos pipe wrap looks like;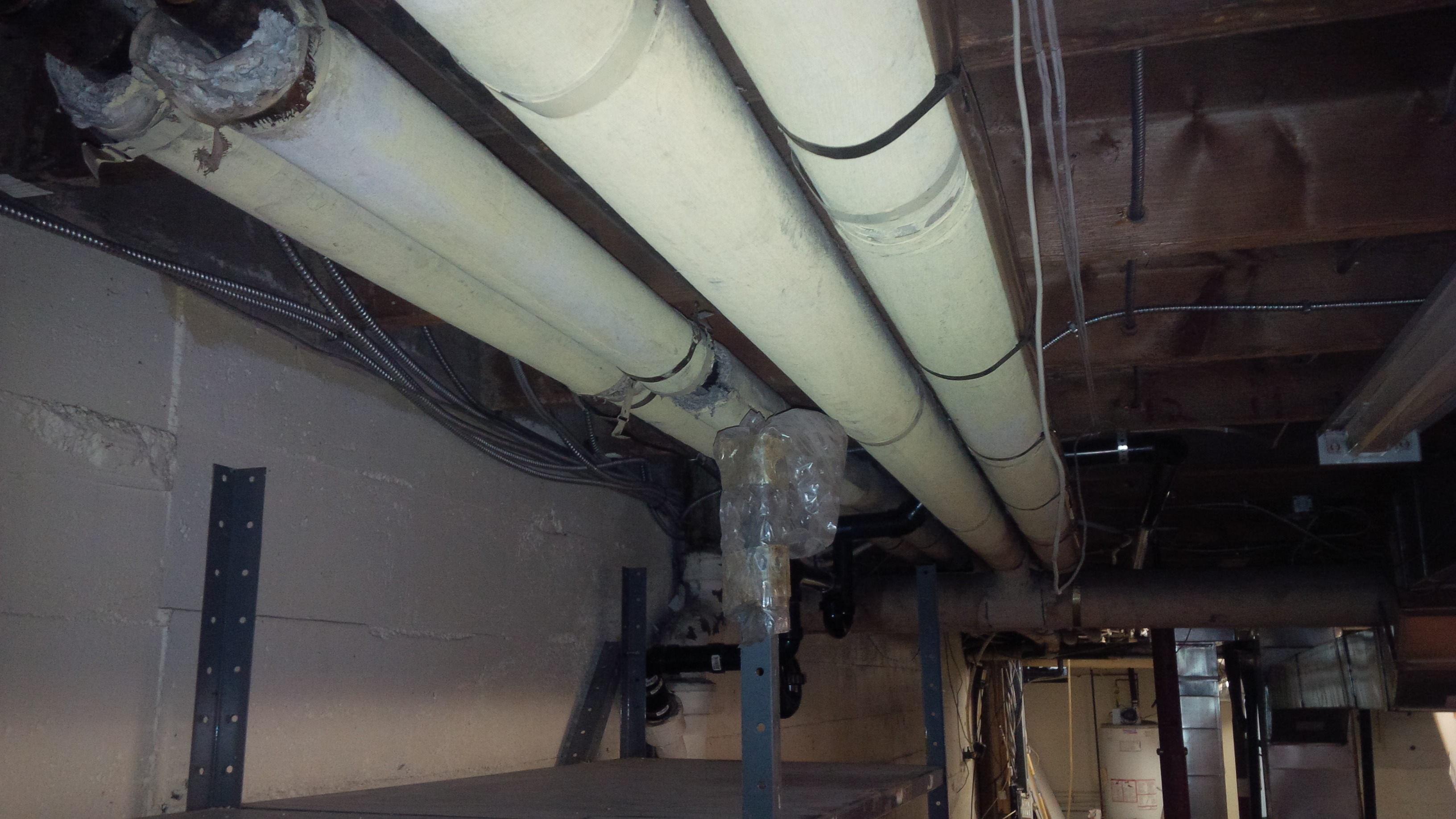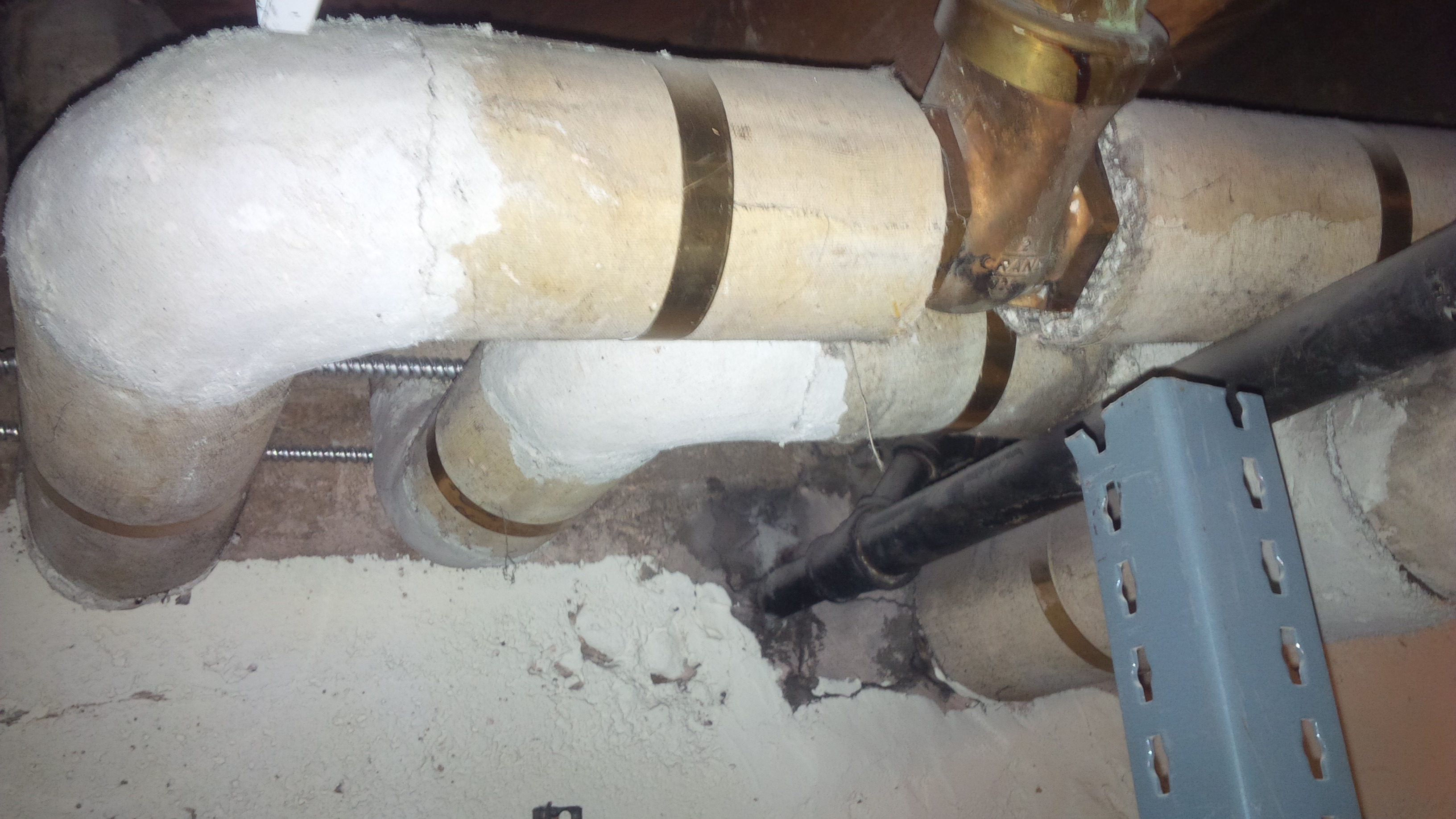 Other common area's where asbestos can be found are:
Asbestos Plaster

Asbestos Ceiling Tiles

Asbestos Vinyl Floor Tiles

Asbestos Register Vents
Asbestos Duct Wrap
Asbestos Popcorn Ceiling
Asbestos is known to cause health problems if not dealt with properly.
Asbestos is most commonly found in building materials that were produced prior to 1987. Today, asbestos is not as commonly used in Canada since prolonged exposure to asbestos has proved to be health hazard. When the asbestos fibres are released into the air anyone breathing the air is at risk. Asbestos exposure has been linked to lung scarring, cancer, mesothelioma and Asbestosis.
Asbestos is a natural mineral which was commonly used in homes, buildings and schools for various uses such as insulation; in attics, around pipes, ducts/HVAC systems, behind walls, in basements and also in ceiling tiles, plaster ceilings, plaster applied to wood lath, ceramic/vinyl floor tiles and roof shingles etc. Asbestos can be found in many different forms throughout Canada.
Canada's Restoration Services is certified and insured in asbestos removal, and asbestos inspections. If you are uncertain or suspect that the products in your home or building contain asbestos (especially if your property was built prior to 1987), one of Canada's Restoration Services' Asbestos Certified Inspectors should look at your home or building immediately.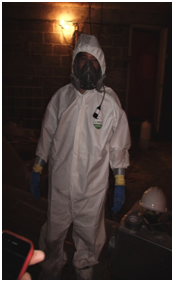 Removal of asbestos is a very intricate and an extensive job. It must be done properly and by an experienced and certified asbestos Company. When disturbing an asbestos material, extreme precautions must be taken to protect our workers from breathing in the asbestos fibers. Also to prevent cross contamination so the occupants of the home or building are not exposed to the Asbestos Fibers. You should never attempt Asbestos Removal on you own or by someone who is not certified and trained in the removal of Asbestos.
Canada's Restoration Services certified and trained technicians removing plaster containing asbestos from a garage. They are wearing full P.P.E (Personal Protective Equipment) which includes: Full Face Respirator, Particulate counter, Protective Suits, Boot Covers, Hard Hats and Gloves.
The asbestos material is first sprayed with a binding agent and throughout the process so it remains wet as it is being removed so the asbestos fibers aren't able to become airborne. The plaster is then removed, placed in 6mm poly bags and sealed. Air Scrubbing machines with HEPA filtration systems remain running throughout the process.
Here is a room that has asbestos in the popcorn ceiling. You can see how everything is fully contained to prevent any asbestos cross contamination: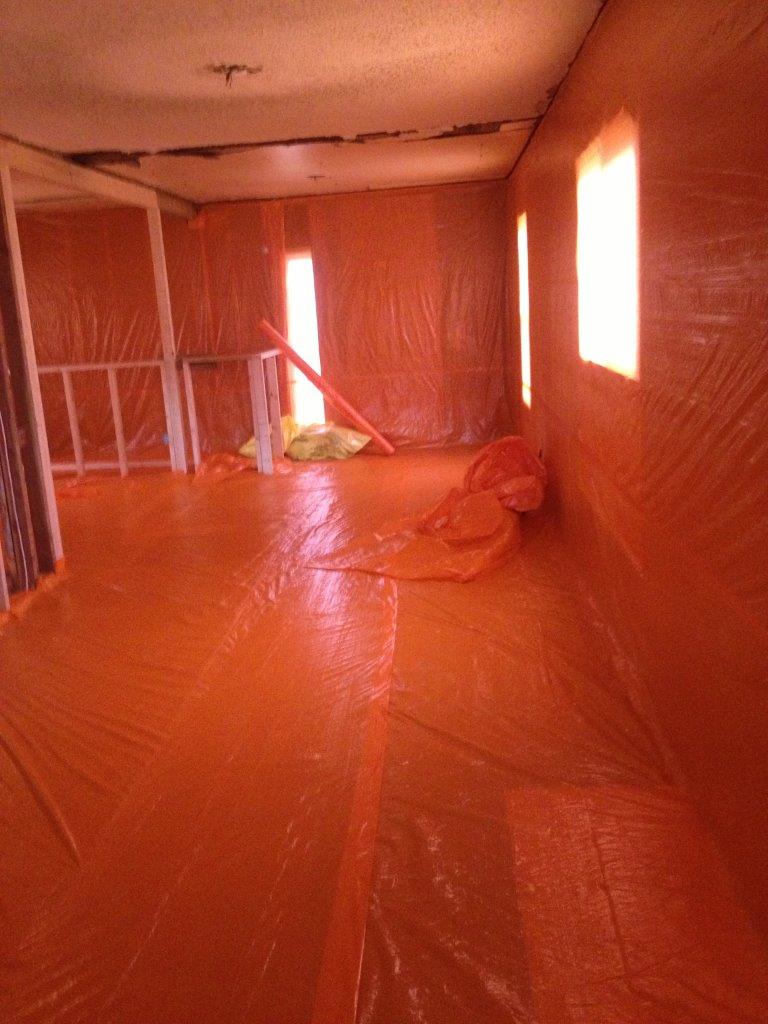 Contact Canada's Restoration Services' offices today to speak to an inspector in your area, Online or by phone
Canada's Restoration Services provides FREE asbestos inspections in Toronto and GTA, Mississauga, Montreal, Ottawa, Calgary, Edmonton and Vancouver.
Canada's Restoration Services Asbestos Services include:

Asbestos Testing

Asbestos Inspections

Asbestos Removal

Asbestos Abatement

Asbestos Removal in Attics

Free Asbestos Removal Estimates

Asbestos removal in Ducts/HVAC systems

Reconstruction

Vermiculite Insulation Removal

Asbestos Removal in Basements

Asbestos Removal from pipes

Asbestos Tile Removal

Asbestos Insulation Removal
Canada's Restoration Services is a certified asbestos removal company providing you with the solutions for all your asbestos concerns. We can return your home to a healthy and safe environment to live and work in.