Six Step Mold Removal Procedure
At Canada's Restoration Services, we provide our customers with complete satisfaction with all of our services. Having mold inside your home can cause many problems for you and your family. That is why we follow a strict procedure to ensure that our experts provide a safe mold removal treatment by following a six step process.
Below are the listed six steps: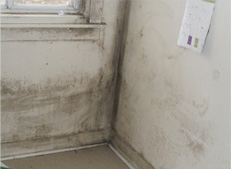 1. Inspection - An inspection needs to be completed on visible and non-visible mold. This inspection allows our certified experts to assess the affected areas. Our mold inspections are conducted by IICRC certified mould inspectors. At Canada's Restoration Services, we value our customers and guarantee our customers a complete free visual inspection of your property.
2. Air Quality Test - Perform an AQT (Air Quality Test) or swab testing if necessary. An Air Quality Test needs to be conducted only on non-visible mold for a few reasons. If the mold is not visible, an air quality test needs to be conducted in order detect what kind of mold is present and the levels of mold count, which is used to determine the severity of the mold. We advise our valued customers to not allow anyone to open any walls or touch the affected area, due to the fact that you will disturb the mold and create secondary contamination.
3. Detailed Scope of Work - A dedicated project manager who had completed the inspection will send over a detailed scope of work for the mold removal project. The scope of work will include the proper steps that must be completed to perform the mold removal, along with an estimate of associated costs.
4. Mold Removal - Canada's Restoration Services will perform the Mold Remediation with guaranteed clearance of mold. The mold removal job can last up to a few days or more, depending on the severity of the mold, the affected areas and the equipment used to remove mold in your home or business.
5. Additional Clearance - Third party clearance can be provided as additional reassurance, on top of a second clearance for the affected area. Secondary clearance is provided by us to homeowners and business owners so we can provide reassurance and a feeling of security and safety for our valued customers. Third party clearance costs must be paid by the customer.
6. Restoration - Canada's Restoration Services construction department will restore/rebuild the affected area to its previous condition. This provides relief to homeowners, knowing that they can return back to their daily lives.
A Mold Inspection Includes: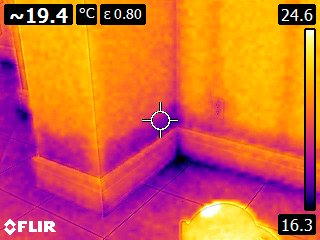 Infrared Camera Scanning: A valuable diagnostic tool which gives us the ability to detect water leaks behind walls, in the ceiling, or under floors without the need for any destruction. In addition, it can identify dew points, which indicates areas of potential mould growth (available in certain areas).
Moisture Meter: This is used for moisture measurement on walls and ceiling surfaces. If the moisture level is high, the possibility for mold increases.